Discover more from Climate Tech VC
The leading resource on climate and innovation.
Over 37,000 subscribers
🌍 Advancing climate tech with AI and Kamala Harris #20
An interview with ClimateAI CEO and unpacking Harris' climate plans
Happy Monday! We've broken down some salient additions to the ticket with Kamala Harris joining on, most notably her prior support for the Green New Deal and likelihood to keep environmental justice front and center in any Democratic administration. 
We also have an extended interview with Himanshu Gupta of ClimateAI, whose AI-driven "Resiliency as a Service" platform helps farmers better predict crop planting in the face of climate change. 
We follow on with (lots) more jobs, a climate tech hype chart, and a number of notable news bits including more O&G majors diversifying and a green bond from Visa. 
Thanks for reading!
Not a subscriber yet?
---
A climate tech-friendly ticket from Dems?
Last Tuesday, presumed Democratic Presidential nominee Joe Biden announced that he had selected California Senator Kamala Harris as his running mate. As a Black and Indian American woman, her nomination is historic. Here, we speculate what her joining the ticket could mean for climate tech.
TECH: What does Harris' nomination mean for Silicon Valley?
Silicon Valley can apparently now "breathe a little easier." As a California senator and attorney general during an explosive period of growth for big tech, Harris has experience with the intricacies and challenges of the industry. 

While Biden has advocated for more oversight of tech giants, Harris has never endorsed this idea. Instead, Harris emphasizes putting up guardrails within the tech industry to prioritize user privacy and data protection.

Given her experience, Harris will be a key person in negotiating the relationship between D.C. and Silicon Valley and in shaping Biden's tech policy agenda. Pundits expect her to focus on ancillary matters affecting the tech community, such as immigration, intellectual property, and climate change.
CLIMATE: What does Harris' nomination mean for climate change?
Harris was an original co-sponsor of the Senate's Green New Deal initiative. She even pledged to eliminate the filibuster to get the resolution passed. Biden's climate plan recognizes the Green New Deal as a "crucial framework," though he has not explicitly endorsed the proposal.

Adding Harris to the ticket virtually ensures prioritization of environmental justice. Days before Biden announced his VP selection, Harris and Representative Alexandria Ocasio-Cortez introduced the Climate Equity Act. This bill mandates that the government consider environmental policies' impacts on low-income communities. Earlier this summer, Harris also introduced the Environmental Justice for All Act together with Senators Tammy Duckworth and Cory Booker to integrate environmental justice into future policy decisions.

Harris has persistently opposed fossil fuel companies, including fining Chevron $25m as SF's district attorney and proposing a carbon fee, an idea to which Biden responded favorably. 
CLIMATE TECH: What does Harris' nomination mean for climate tech?
Harris has publicly advocated for a fee on pollution and removal of subsidies for fossil fuel. These levers alone would have enormous influence on redirecting capital toward climate tech.

Her $10 trillion climate plan during her presidential campaign required all vehicles to be zero-emission by 2035 and the electric grid to be carbon neutral by 2030 (sound a little familiar to the Democrats' Climate Crisis Action Plan?). Among Biden's VP choices, Harris appears to have one of the deepest understandings of the importance of technology in addressing climate change. 
---
Deals of the Week (8/10-8/17)
🍔 Impossible Foods, a Redwood City, CA-based company producing plant-based meat substitutes, raised $200m in funding from Coatue and XN, bringing its total funding to $1.5b. TechCrunch has more here. 
🌱 Unfold, a Sacramento, CA-based vertical farming company, raised $30m in funding from Leaps by Bayer and Temasek. The startup is targeting seed genetics and developing seed varieties best suited for the vertical farming environment. Bloomberg has more here. 
🌱 Natural Fiber Welding, a Peoria, IL-based textile company producing plant-based alternatives to leather and plastics, raised $13m in new funding from Ralph Lauren. Crunchbase has more here. 
🍅 Root AI, a Woburn, MA-based agricultural robotics startup, raised $7.2m in Seed funding from PJC, Accomplice, First Round Capital, AgFunder, and Outsiders Fund. The startup is designing "intelligent robots" to optimize produce picking – beginning with tomatoes – in indoor farms. TechCrunch has more here. 
💨 Klima, a Berlin-based app that calculates carbon footprints, raised $5.8m in Seed funding from e.ventures, Holtzbrinck Ventures, and 468 Capital. In addition to measuring individuals' carbon footprints, the app offers a monthly subscription for users to offset their activities and fund emissions-reducing climate projects. Crunchbase has more here.
☂️ The Demex Group, a D.C.-based climate-driven insuretech firm, raised $4.2m in Seed funding from Anthemis and IA Capital Group. More here. 
🐷 New Age Meats, a Berkeley, CA-based company producing meat from "animal cells instead of animal slaughter", raised $2m in seed funding from TechU Ventures, ff Venture Capital, SOSV, Sand Hill Angels, Siddhi Capital, and others. More here. 
🌳 Overstory, an Amsterdam, Netherlands-based vegetation intelligence platform, raised $1.7m from Pale Blue Dot, Powerhouse Ventures, Techstars and Futuristic VC. The platform helps electric utilities better manage vegetation and reduce wildfire risk. More here.
🐝 The Bee Corp, an Indianapolis, IN agtech startup, raised $1m from Elevate Ventures, THRIVE, IU Ventures, and other angel investors. The company's app, Verifli, uses infrared image analysis to enable beekeepers to calculate colony health without opening the hive. More here. 
⚡ Zap Energy, a Seattle, WA-based nuclear fusion startup, received Series A funding from Chevron. This investment highlights oil-and-gas giants' efforts to expand or shift their core business. More here. 
Later-Stage Fundings / New Funds:
🐟 S2G Ventures, a Chicago, IL-based venture firm focused on sustainable agriculture and combating climate change, announced plans to invest $100m in startups focused on improving ocean health and sustainable seafood. TechCrunch has more here. 
🚗  Hennessy Capital Acquisition Corp. IV is in advanced talks to merge with Canoo, a Southern California-based company offering EVs on a subscription basis. The SPAC is in talks with investors to raise about $300m in new equity for the deal. Bloomberg has more here.
---
In the Spotlight: Himanshu Gupta (ClimateAI)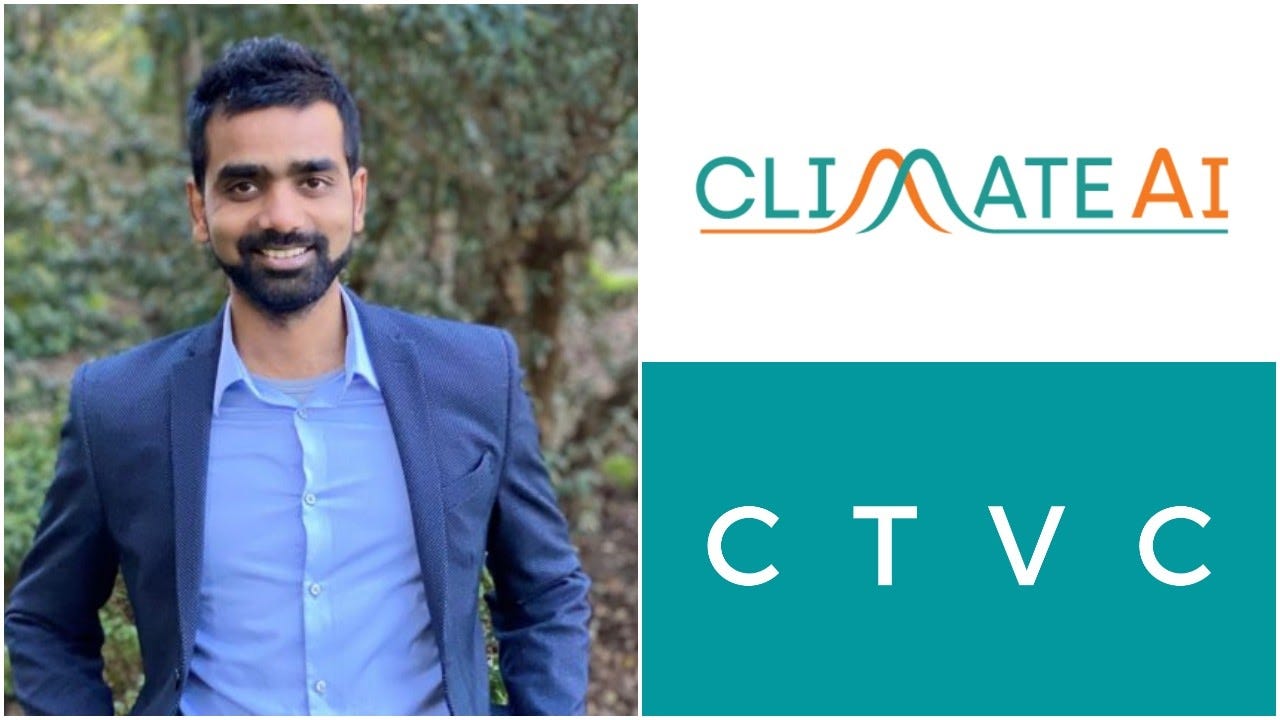 We sat down with Himanshu Gupta, CEO and founder of ClimateAI to discuss the potential of applying AI to climate issues - and where AI is overhyped. ClimateAI brings climate forecasting and agronomics into the age of machine learning to address food system resiliency and ultimately increase farmer profitability. [The newsletter version has been edited lightly for length, so check out our website for the full feature].
Take it from the top! What should our readers know about ClimateAI? 
ClimateAI offers a product called "Resiliency as a Service" in agriculture. Why agriculture? Last year alone, 25% of global climate disasters costs were absorbed by agriculture – which 70%+ of the population depends on for their livelihoods. Agricultural producers' and suppliers' profits are already marginal, before absorbing the majority of climate disaster costs. At ClimateAI, we saw this injustice as a great social and economic opportunity.
The agricultural market is inefficient in not rewarding resiliency. Farmers' crop production output is measured in yield, safety, and quality. Climate change impacts all three of these. The market, however, treats a grower with more resilient output the same as their neighbor whose output may be high during a good year but will drastically suffer during a drought year.
Food companies want more reliable and quality supply chains, but don't reward resilient producers. Growers all pay the same lending and insurance costs and all get the same contract price with the food companies. As far as public policy is concerned, the solutions to resiliency problems have only been reactive "bandaids" such as loan forgiveness programs after a climate disaster wreaks someone's harvest. We're building a "Resiliency as a Service" platform that allows markets to correct for inefficiencies and fund resilience in the supply chain.
What are the biggest opportunities to apply AI to climate? 
I see 3 arenas where AI can make a difference to climate challenges: 1) fundamental science, 2) applied science, and 3) metrics production. 
In fundamental science, AI improves the parameterization of climate models. As this work develops, we'll see a lot less uncertainty in predictions like those from the IPCC.  
ClimateAI focuses on the second bucket of applied science AI. We're deploying AI to learn the underlying physics of climate interactions and predict extreme climate risks. The challenge is that observational data for predicting climate risks dates back only to the 1920s - a super limited dataset in the scheme of global climate changes. We're taking an approach similar to the autonomous driving industry; if there isn't enough data to train your algorithms on the road, you train them on a simulation. That's ClimateAI's approach. 
We also operate in the third arena, producing industry-relevant metrics, which combines the fundamental and applied science datasets to provide business insights. 
Who are your customers and how do they use your technology? 
Our customers are typically seed companies, processors, and food companies. We don't directly sell to farmers, who walk the challenging fine line of narrow profit margins. Our customers deploy our solutions to farmers as part of their value added services, and through that we're able to scale at a much faster rate. 
Our customers use our technology for production planning. What should I think about next season? Will I be able to meet sales demand? This is all based on the ability to predict extreme weather in your location.
Another set of our customers use our technology to predict where crops will move in the future. Would that increase the risk of deforestation? Where is the best place to plant for optimal soil health? 
These are our current two agricultural products. We also have API solutions to predict climate risk which can be applied in the water and energy sectors. 
How would customers in the energy or water space use this precision AI tool?
While we're primarily focused on the agriculture sector, it's inherently linked with the water and energy industries. For example, let's say that you're an asset manager of a hydropower plant. Your region's seasonal temperature drives the level of river water flow. A sudden heat wave in February causes accelerated snow melt in the spring, causing the summer season to be fraught with drought. In this scenario, we can pinpoint your plant's peak energy production in March and forecast suboptimal production in the summer, coincidently when energy prices and demand are at their highest. 
To help companies and industries to understand how AI applied to climate data affects them, I find myself referencing a three-pronged framework: (1) What is the hazard (e.g., drought, flood, or wildfire)? (2) What is the company's exposure? (3) Where is the vulnerability? These three questions delineate the sectoral impact and determine decisions that stakeholders should be making. 
Have you turned down potential customers due to lack of alignment with your climate-first mandate?
Yes. Our actions will always be climate positive, so we'll never work with the fossil fuel industry. We've turned down a couple of customers from the oil and gas industry already.
Where is AI overhyped – particularly as it relates to climate?
AI can be overkill. A simple linear regression can create enough customer value, rather than applying complex neural networks to the problem. 
Curious to learn more about ClimateAI? Their website and Himanshu's Medium are good sources of more thinking. Likewise, ClimateAI is always open to interacting with bright minds passionate about the climate space. Keep tuned to their jobs page for upcoming Product Marketing Manager and Operations Lead job descriptions, and in the interim email them directly for opportunities to collaborate.
Continue reading the full interview here.
---
In the News
Visa: The payments company issued a $500M green bond to finance projects including energy efficiency and building upgrades, along with appointing its first chief sustainability officer. We wouldn't be surprised if Visa soon offered a carbon offset feature to their credit card customers. 
Reuters: There's been a changing of the guard at Equinor (Norweigan O&G major) as the first engineer to ever hold the top job takes over the helm from a 40-year veteran CEO. The new CEO will consider reallocating capital to renewables and low-carbon solutions such as CCS.
Bloomberg: The Euro majors aren't the only ones trying to shift their energy portfolio. Phillips 66 became the latest in a string of US refiners to announce plans to convert an oil refinery to a biofuel plant. 
Greentech Media: Masdar, a UAE state-owned renewables developer, has acquired a 50% stake in EDF's 1.6GW portfolio of renewables projects. Marking one of the largest US renewable energy deals this year, this foray attempts to diversify the UAE's oil-heavy energy holdings. 
EPA: Despite the overwhelming press chatter that plugging retired oil & gas wells is a rare win-win-win for climate, jobs, and revenue streams, the EPA finalized rules to roll back requirements on curbing well leaks.
Forbes: Nikola Motors scored a contract to produce ~2,500 electric garbage trucks for Republic Services. The partnership bolsters Nikola's position as EV manufacturers jostle to carve out specialty niches amid the rampant competition (most of which have yet to ship a vehicle). 
Cadillac: The car company dropped its first EV model – "Lyriq" – starting at under $60K. This marks the start of GM's wider push into electric, promising 20 EV models by 2023.
Grist: In a clear example of how corporate climate action helps accelerate deployment of game-changing climate tech innovations, Apple will source low-carbon aluminium for its laptops from Elysis which uses an alternative electrochemical production process.
---
Pop-up
Shayle Kann tweeted a climate tech hype cycle chart – marking where various components of the energy sector are in their development. Listen to Stephen Lacey and Kann on The Interchange as they unpack the chart and discuss whether to "hold, buy, or sell" certain climate technologies.
Check out New Protein's food tech maps, which illustrate just how many players are entering the alternative protein space.
Want to dig deeper into Elemental Excelerator's work from our previous issue? Check out their 2020 Pipeline Report including data and insights from this year's cohort.
Morgan Stanley has launched the Sustainable Solutions Accelerator to identify and scale breakthrough sustainability-focused innovations.
PSA that when you raise venture capital, your investors are looking for you to produce a $3B company in <10 years.  
It's been a SPAC Attack kind of summer. John Luttig from Founders Fund breaks down the poorly named shell company vehicle and its implications for equity owners, so you're extra ready to discuss the latest EV SPAC news at your socially distanced BBQ party... 
...over a limited-emission beer! New Belgium Brewing's iconic Fat Tire Amber Ale has become America's first nationally distributed carbon neutral pint.
Farm-fluencing has become an agricultural revenue stream during the weird era of COVID. 
As NYC's municipal composting programs shuttered during COVID, Vivian Lin got to work creating a private composting service - that may finally be a financially viable solution to black gold. 
Opportunities & Events:
🗓️8/20 Climate Returns: Tune in for episode 2, where Abe Yokell, Managing Partner of Congruent Ventures, will be joined by Sarah Tavel, General Partner at Benchmark.
🗓️9/9 - 9/25 Fuel 2020: Short sessions on catalyzing the technologies we need to power us forward to a clean and equitable future will be available daily.
---
Jobs
Chief of Staff (FactoryCo) @Sidewalk Labs
Product Manager, Building Energy @Sidewalk Labs
Sustainability Project Manager @Google
Energy Markets Analyst @Voltus
Ag Conservation Speciality @The Nature Conservancy
Mechanical Engineer @Pilant Energy Systems
Hardware Engineer Co-Op @H2Ok Innovations
Co-Founder @Diversified Hydrogen
Business Development Manager @Overstory
Sales Director & Project Manager @Propagate Ventures
Investor in Residence @Elemental Excelerator
Research Associate @C16 Biosciences
---
Feel free to send us new ideas, recent fundings, or general curiosities. Have a great week ahead!