🌎 Climate negative foods from friendly trees #22
Expanding from climate mitigation to adaption and chatting with Naveen from TerViva
Monday has us mulling the distinction between climate mitigation vs. adaptation, and wondering if the vaunted Pongamia trees with their carbon negative food ingredients and ability to grow in degraded soils could be an answer to both. 
It's a week with a bit less deal activity, but oodles of news ranging from GMO-squitos to McDonald's getting into the carbon farming game. Plus a batch of new jobs including an Energy Innovation Manager at Microsoft and 5 (!) science gigs at Kula Bio. 
Thanks for reading!
Not a subscriber yet?
---
Adapting to our climate reality 
All within the past two weeks, wildfires raged across California, Hurricane Laura sliced through Louisiana, "derecho" storms depleted crops in the Midwest, and floods crippled central and southwest China. Although we must prioritize avoiding the worst future climate change scenarios, we are simultaneously facing dire climate change-induced impacts now. 
Mitigation vs. adaptation: what's the difference? 
Mitigation focuses on reducing climate change (ie. "decarbonization") whereas adaptation involves adjusting to life in a changing climate (ie. "disaster response, catastrophe planning"). 
What are climate tech solutions to adaption? 
Fortunately, we're watching in real time as private-public partnerships emerge to develop adaptation responses. The Department of Energy (DoE) and Microsoft are collaborating on artificial intelligence tools which can provide real-time information to first responders in natural disasters. Microsoft is also combining data collection with AI-enabled models to detect warning signs before natural disasters break out. 
Early stage venture bets to enable individuals to be proactive rather than reactive when facing climate change-induced disasters are also in the works. This week, Harbor, an emergency preparedness platform, received $5m in seed funding to gamify disaster preparation. Its advisors include current and past members of FEMA and the Air Force.
Why aren't more tech companies entering the adaptation space?
Relying on Silicon Valley to save lives in a disaster can be a high-risk play. Last summer, the NYTimes highlighted the challenges of disaster planning by profiling One Concern, a resilience software platform that raised almost $58m. One Concern markets its products as lifesaving tools for use during earthquakes, floods, and wildfires and boasts high-profile board members (including a former C.I.A. director and former head of FEMA). However, representative datasets of highly destructive natural events are lacking and applying AI to accurately predict the next disaster is exceptionally challenging. 
What's next?
As climate change increases the number and intensity of natural disasters, innovation (and $) will follow suit. Entrepreneurs will expand their focus to adaption and resilience as climate change-induced events impact more people and even become personal (as was the case for the founder of Pachama). 

There are already numerous private and public funding opportunities for adaptation and resilience-focused climate technologies listed on the NOAA site. We've also discussed insurers as a potential funding source, as their exposure to climate risk increases.
TLDR; weather and climate abnormality are the new reality. Climate tech will need to catch up.
---
Deals of the Week (8/24-8/30)
🚚 Motiv Power Systems, a Foster City, CA-based producer of electric truck chassis, raised $15m in additional funding from GMAG Holdings. Its technology allows for multiple configurations of EV vehicles including box trucks and school buses. More here.
⚡ SparkMeter, a Washington, DC-based startup offering grid management solutions, raised $12m in Series A funding from Clean Energy Ventures, Breakthrough Energy Ventures, Goodwell Investments, Alitheia Capital, Total Energy Ventures, and others. The funds will be used to launch new digital solutions which connect grid data insights to business operations in emerging markets. More here.
🚀 EnerVenue, a Fremont, CA-based energy storage company, raised $12m in seed funding from Energy Capital Partners. The startup has set out to bring aerospace-proven metal-hydrogen battery technology into the clean energy revolution. More here.
🚲 Zoomo, a Sydney, Australia-based e-bike platform formerly known as Bolt Bikes, raised $11m in funding from The Australian Clean Energy Finance Corporation, Hana Ventures, Maniv Mobility, and Contrarian Ventures. TechCrunch has more here.
☀️ Raptor Maps, a Boston, MA-based solar software company, raised $5m in Series A funding from Blue Bear Capital, Data Point Capital, Buoyant Ventures, Congruent Ventures, Powerhouse Ventures, the Massachusetts Clean Energy Center, and Y Combinator. The company collects aerial solar data through drones and produces insights to optimize solar PV assets. More here. 
🌪️ Harbor, a Los Angeles, CA-based emergency preparedness platform, raised $5m in seed funding from 25madison. The product aims to gamify the process of doing everyday preparation for disasters. TechCrunch has more here.
🌱 KOS, a Santa Barbara, CA-based plant-based protein and supplements company, raised $2.1m in funding from Springdale Ventures, former Whole Foods CEO Walter Robb, and Horizon Bank Chairman Jim Schneider. More here. 
🐛 Livin Farms, a Vienna-based insect protein startup, raised €2.5m from the European Innovation Council as part of the European "Green Deal". The startup aims to scale insect breeding as a sustainable source of protein. More here.
Later-Stage Fundings / New Funds:
⚡Tortoise Acquisition II, an energy-focused SPAC sponsored by Tortoise Investments, filed for a $250m IPO. The company has identified its target business as one in the broad energy transition or sustainability arena. More here. 
🚗 Xpeng, a Guangzhou, China based electric luxury car maker, raised $1.5b in its initial public offering. Shares were priced at $15 each, though they opened at $23.10 and closed at $21.39. More here.
---
In the Spotlight: Naveen Sikka (TerViva)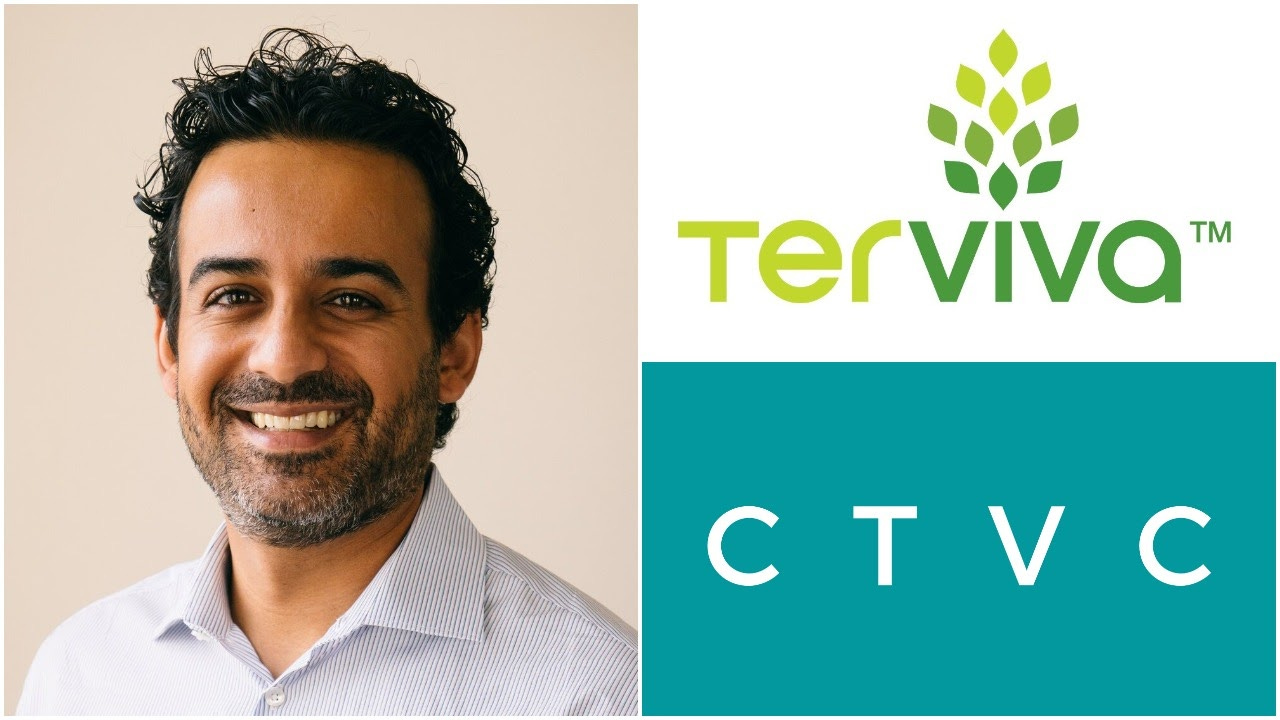 Here at Climate Tech VC we're big fans of natural solutions to climate change that, with a little scientific and business model enginuity, come out far ahead of their non-natural competition. TerViva has done just that. Rooted in the natural power of an ancient supertree, and applied to the modern food system via some clever financing, distribution, and processing innovations, TerViva has brought to market the world's first carbon negative oil and flour ingredients. To hear the story, we had the pleasure of chatting with Naveen Sikka, the disarmingly affable and exceptionally bright CEO of TerViva.  
First things first, what is the Pongamia tree and why is it a better crop?
The Pongamia is a millennia-old legume tree. Cultivated in the subtropics, it was favored in ancient times for its beans which are loaded with antimicrobial compounds which, depending on who you ask, can solve all of the world's problems. Now, the Pongamia tree is mostly used for reforestation because it's hardy without being invasive. 
What role does TerViva's play as a company in Pongamia production? 
We're a vertically integrated producer and processor. We have a lot of IP around questions like how do you make this bitter bean into a food? How do you formulate the protein into a veggie burger?
We use that IP to work with collaborators to get things done. We put our genetics insights to work with growers who have the land and operating ability. Some of those growers are existing Pongamia farmers in India where the tree is very widespread. With our Indian growers, we employ traceability to ensure that they're rewarded for the high quality of their crop. 
How do we make money? Well, we charge growers for our tree genetics. That's not our end state business model, but charging for getting those trees in the ground has been a good way to start the movement. Our principal revenue stream is selling the Pongamia protein and vegetable oil ingredients. 
We do a little bit across every step of the food value chain and our team reflects that. We've got folks who help farmers get the tree into the ground, others who work with the food manufacturers, and others in the lab. But ultimately where we make the money is in the bean. 
What other comparable agricultural companies vertically integrated like this? 
Our vertical structure tips toward a bias we have around strategy. We believe that true transformation in food and agriculture is going to have to happen through vertical integration. Over the last 5 to 7 years of agtech, we've seen that farmers' share of wallet of the final food product sale is so small that asking them to adopt different technologies or practices has been challenging – they're just not incentivized or empowered. With a vertically integrated solution, our growers are getting a bigger part of the share of wallet. Said another way, our farmers have a vested interest in doing things differently. 
Indigo Ag and Farmers Business Network (FBN) are examples of others trying to empower farmers. And of course, Blue Diamond and Land O'Lakes are legacy examples of the integrated grower model. 
You published an incredibly in depth 2020 Sustainability report. For those who haven't read it yet, what are some of the main messages from that report?
First off, we can use a bigger basket of crops to meet our global food needs. We're too reliant on 3 to 5 crops for all of our food needs. Consumers are willing to try more things now. The other day I flipped over a Califia butter container and read on the ingredients list that they're using tiger nuts! What even is a tiger nut?! It's an exciting time when diverse ingredients get valued. These crops come from diverse land assets that don't put pressure on 2 to 3 countries to over-farm their land. TerViva stands for alternate, permanent, and sustainable crops deserving a place in our food basket.
The second major point that we drive home in the sustainability report is that farmers absolutely need to be more central to our future food system. 
And then lastly, there are "natural" asset approaches and "non-natural" approaches to sustainable agriculture. Non-natural approaches have been getting a lot of attention, and now innovations like cellular meat and vertical farming are super overweight in investment portfolios. They do merit venture's attention, but that same asset class should be investing in natural solutions. It sounds much more interesting to control nature, but natural solutions solve the problem directly. 
Will TerViva's oil compete with palm oil?
We are going for it! Our current oil product is already a partial substitute for palm. We think we can replace 1 to 2 liters of every 10 liters of palm oil. That means that a product which used to be 100% palm, can now be formulated with 80% palm and 20% Pongamia. Industry-wide, that 20% replacement adds up. We have a strategy to continue to increase that replacement rate, all while maintaining our organic status. 
TerViva's food products are "carbon negative." Is that a first for the industry?
We think we invented that moniker. But yes, it takes a lot of work to get to carbon negative. We've mapped the LCA (life cycle analysis) from field to fork, and we sequester significantly more carbon in our trees than is emitted by the end product. A big carbon negative sink from our Pongamia production comes from planting the trees on degraded agricultural land.
The more that consumers start to value the carbon footprint of their diets, the more important quantification and certification of life cycle analysis will become. For that, digital tools are going to be critical; cool things are going to develop around it. 
We're not 100% certain that consumers will choose a food product because it is carbon negative, but we want consumers to associate TerViva with reforestation on degraded land, and other good carbon approaches. We're all in on making this the world's most sustainable food, and control the standard to help regulate how it is manufactured and distributed. 
If you have suggestions for food companies that you'd like to see the Pongamia carbon negative ingredients incorporated in, TerViva would love to hear from you! Reach out to Chris.Quevedo@TerViva.com with thoughts.
To learn more about TerViva, check out their website and be sure to read their 2020 Sustainability Report. 
---
In the News
MIT Technology Review: California, a state touted for its greenness, is expected to miss its climate targets by a century. To reach its 2050 goals, the state will have to cut emissions by 5.34% per year (compared to a 1.15% reduction in 2017). What's the one glimmer of hope for emissions cuts? EVs. 
FastCompany: While many have been quick to blame renewables for the blackouts in California this week, the reality is that more clean power is required to prevent future power outages. California depends on out-of-state utilities to supply electricity when demand peaks. More renewables not only address this demand, but continue to mitigate climate change which causes these spikes in temperature in the first place. 
The Wall Street Journal: Finite Carbon is trying to prove that trees can be more valuable alive than dead by offering an income-producing alternative to logging: forest carbon offsets. In the U.S., more than $1bn has been paid to woodland owners to not cut their trees.
McKinsey: The global fashion industry generated 2.1 billion metrics tons of greenhouse gas emissions in 2018 (4% of the global total). The industry will miss the 1.5ºC pathway by 50% if it maintains its current pace of decarbonization initiatives. 
BCG: The Henderson Institute posits a new "smart simplicity" framework for breaking the doom loop of climate change inaction. 
Bloomberg: ExxonMobil was ejected from the Dow Jones Industrial Average along with Pfizer Inc. and Raytheon Technologies Corp. in the biggest reshuffling in seven years. The company is the Dow's longest-serving member, and its swap with Honeywell International indicates a "sign of the times - out with energy and in with cloud."
Reuters: After losing $4.36bn in the first half of 2020, PetroChina (Asia's largest oil and gas producer) pledged to cut its emission to near zero by 2050.
The Guardian: The RNC came to a close this past Thursday, and despite the nearly 78,000 words spoken over the four day event, climate change failed to make the agenda. With convention speeches from Eric Trump celebrating the beauty of the Grand Canyon (a region the Trump administration has proposed opening to mining for uranium), and several others depicting Joe Biden as a threat to oil and gas worker jobs, many young conservatives were left disappointed by the party's inability to highlight the issue's mounting significance. 
---
Pop-up
Our friend Jason Jacobs of MCJ climate fame has started a rolling fund. First SPACs, now rolling funds… There's been a lot of creative financial instruments this summer. So what exactly is a rolling fund?
McDonald's teams up with Target, Cargill, and The Nature Conservancy to sequester 150,000 metric tons of carbon across 100,000 acres of land in Nebraska. The cost? $8.5m over five years. The approach? Cover cropping, reduced tillage, crop rotation.
With the pandemic cancelling vacation plans for many this summer, the emergence of regenerative tourism has us counting the days until next year.
Florida will release three-quarters of a billion GMO, "population self-limiting" mosquitos. This idea has been buzzing around for almost a decade, and it turns out that constituencies are still arguing about the unknowns.
Hurricane Laura tears down a controversial Confederate monument.
Opportunities & Events:
💡9/29 Seed Angel Forum: Applications are open for Pre-Seed and Seed stage startups to participate in the next Seed Angel Forum virtual event.
🗓️ 9/2 Greening the Grid: Join Clean Energy for Biden for a panel discussion on the recently released Biden plan for clean energy, climate action and environmental justice. 
🗓️ 9/3 Fireside Chat with Congressman Sean Casten: Join this webinar to hear from Representative Sean Casten about why he has made combating climate change his top priority while in Congress.
🗓️ 9/24 Better Together: The Climate Pledge: Join GreenBiz for a conversation about Amazon's The Climate Pledge—a bold commitment to become net zero carbon by 2040—10 years ahead of the Paris Agreement. 
---
Jobs
Multiple Science and Engineering roles @Kula Bio
Process Engineer @Phoenix Tailings
Corporate Development Manager @Boost Biomes
Energy Innovation Manager @Microsoft
VP of Engineering, Deep Learning Engineer @Greyparrot
Head of Development @BlueWave
Software Engineer @Motiv Power Systems
Multiple (volunteer) roles @Climate Change AI
Principal, Associate @Energize Ventures
Multiple roles @Rebellyous Foods
Sustainability Biz Dev Intern @Pachama
---
Feel free to send us new ideas, recent fundings, or general curiosities. Have a great week ahead!