Discover more from Climate Tech VC
The leading resource on climate and innovation.
Over 37,000 subscribers
🌍 Lessons from the wildfires #26
Wildfire innovation and China's game changing climate commitment
Happy Monday! In this week's issue, we explore the scorch that wildfires have left across our landscape. TLDR; the issues are ever more real to more communities, and the solutions remain woefully limited.
We also weigh China's recent climate commitment to achieve carbon neutrality before 2060, while featuring news on Gov. Newsom's effort to phase out gas vehicles, Walmart's commitment to hit zero emissions by 2040, and Airbus' plan for zero-emission planes before 2035. If all these commitments come to pass, the next few years will prove to be busy with supporting climate tech and infrastructural investments.
Thanks for reading!
Not a subscriber yet?
---
Climate problems and solutions: made in China?
Tucked into a broader speech about "facing the virus" with global governance and a green recovery, China's President Xi Jinping "may have redefined the future prospects for humanity" on Tuesday when he announced before the UN General Assembly that China will aim for "carbon neutrality before 2060." 
The announcement surprised many and immediately spurred global twitterpation; if true, peaking China's CO2 emissions by 2030 may quantitatively be the most significant climate commitment ever. As the world's largest producer of greenhouse gases (29% of global CO2 emissions), China's actions alone could reduce warming by 0.25ºC.
What are the odds that China walks the talk? 
👎 New infrastructure is carbon intensive: China continues to invest heavily in coal, especially as part of its Belt and Road Initiative (BRI) – a multi-trillion dollar infrastructure investment strategy. As of late last year, China had 150 gigatons of coal power plants in the development pipeline, which (with an avg lifetime of 46 years) would exist past the 2060 goal. Separately, China spent $20bn on wind power construction in the first eight months of 2020, a 179% increase from last year, but trifling in comparison to fossil fuel energy generation. To be serious about peaking emissions by 2030, China must dramatically accelerate their renewables mix. 

👎 Bid for short-term international favor: Xi's statements came sandwiched between calls for international cooperation to "join hands and be prepared to meet even more global challenges." Going all in on climate - in contrast to the US government's retreating environmental commitment under Trump - could (pessimistically) be seen as China's way to make amends with the global community's perception of how they handled COVID-19. 

👍 Clean energy technology exporter: China now produces 45% of all wind turbines, over 2/3rds of the world's solar panels, and is the world's largest producer of lithium-ion batteries and electric vehicles. As in the 2000s, when China became a major exporter of renewable energy technologies, their export readiness is backed by substantial state support. 

👍 What Xi says, goes: President Xi Jinping has unlimited rule over China. Without concerns about leadership challenges or party pushback, Xi can direct China's climate efforts and ensure follow-through. 
What does this mean for climate tech?
In PWC's "The State of Climate Tech 2020" report released this week, the US deployed the most venture capital in climate tech since 2013 ($29bn vs. China's $20bn), but policy support behind this ambitious plan will likely make China the future No. 1. Additional investment in climate tech will produce spillover effects and reduce prices elsewhere.

The Chinese government's control of market activity enables it to aggressively fund and support startups, allowing them to scale quickly into climate tech behemoths. Unfettered government control, though, can also lead to problems ranging from inefficiency to corruption.
---
Deals of the Week (9/21-9/27)
⚡ WM Motor, one of the highest-funded China-based EV startups, raised $1.5b in Series D funding from Baidu and Tencent. TechCrunch has more here. 
☀️ Greenlight Planet, a Champaign, IL-based maker of solar-powered electricity kits for people in sub-Saharan Africa and South Asia, raised $90m in new funding from CDC Group, FMO, Norfund, ARCH Emerging Markets Partners, and others. More here.
🌱 Green Monday Holdings, a Hong Kong-based plant-based food company, raised $70m in funding from TPG's The Rise Fund and Swire Pacific. TechCrunch has more here. 
🍔 Mosa Meat, a Netherlands-based creator of the world's first cell-based beef burger, raised $55m in Series B funding from Blue Horizon Ventures, Bell Food Group, M Ventures, Nutreco, Merck Ventures and Agronomics. More here. 
🚗 Turntide Technologies, a Sunnyvale, CA-based producer of a "Smart Motor System", raised $33m in funding from the Amazon Climate Pledge Fund, Future Shape, Meson Capital, BMW iVentures, JLL Spark and WIND Ventures. Crunchbase has more here.
♻️ RoadRunner Recycling, a Pittsburgh, PA-based creator of waste management and recycling solutions, raised $10m in Series C funding from Avery Dennison and Valo Ventures. More here. 
💨 Nori, a Seattle, WA-based startup creating a marketplace for carbon removals, raised $4m in Seed funding from Placeholder, North Island Ventures, Tenacious Ventures, and others. More here.
💧 Aqua Membranes, an Albuquerque, NM-based developer of a patented 3D Printed Spacer Technology® membrane water filter, raised $2.1m in funding from Clean Energy Ventures and Pentair. More here.
⚡ Rhombus Energy, a San Diego, CA-based producer of EV charging infrastructure and related power solutions, raised an undisclosed amount of Series C funding from Emerald Technology Ventures, Cycle Capital, and others. More here.
Later-Stage Fundings / New Funds:
ChargePoint, the world's largest electric car charging network, agreed to go public in a $2.4bn reverse merger with SPAC Switchback Energy. More here.
Array Technologies, an Albuquerque, N.M.-based maker of ground-mounting systems for solar energy projects, filed for a $100m IPO. 
Decarbonization Plus Acquisition, the third blank check company from Riverstone targeting businesses focused on global decarbonization, filed for a $300m IPO. More here.
ArcLight Clean Transition Corp., a renewable energy-focused SPAC formed by ArcLight Capital Partners, filed for a $250m IPO. More here.
---
Wildfires sparking innovation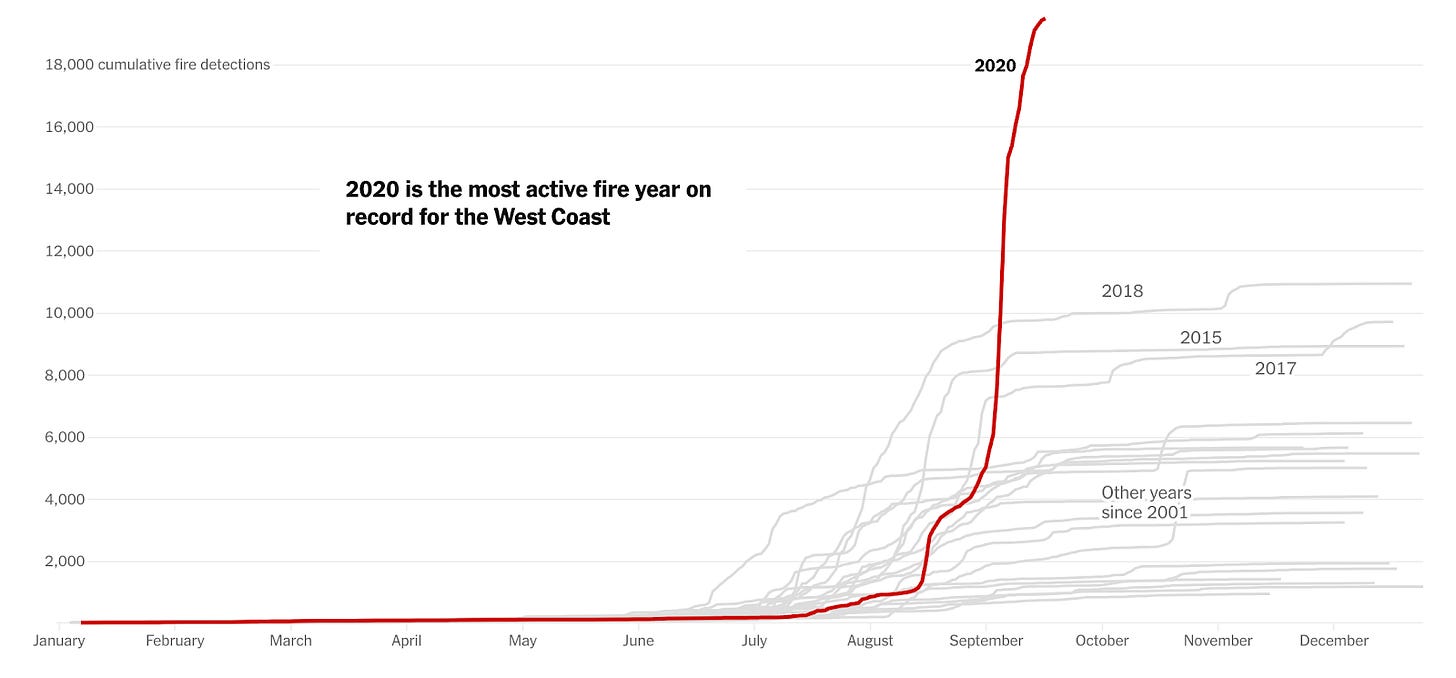 Wildfires are scorching the West. Every year continues to set a new record for the worst fire season. In 2020, with months still left, over 5 million acres have burned in California, Oregon, and Washington – wreaking havoc on communities, burning down homes, and releasing toxic emissions into the air. From a greenhouse gas perspective, the 2017-2018 California fires produced carbon emissions equivalent to running 15-20 coal plants at full capacity for a year. According to Matt Botill, the Chief Investment Officer at California Air Resources Board (CARB), "California's forests cover about 1/3 of the State. Approximately 85% of terrestrial carbon is stored in forests and shrublands." In other words, we're locked in a terrible feedback loop where climate-exacerbated wildfires beget more CO2 emissions. 
We've dragged our feet on climate action for too long and are now facing the fiery consequences. With a hotter and drier future, climate experts warn that we must drastically rethink our approach to wildfire management. We've broken down below the areas in which innovation is addressing wildfires.
Prevention and Mitigation
Aging grid infrastructure and poor vegetation management are responsible for ~77% of wildfires. Utilities play an endless game of whack-a-mole managing vegetation around their lines; despite battalions of electric engineers, only a small squad of arborists are qualified to treat vegetation. These arborists are tasked with identifying hazardous areas and deciding which trees to cut – a manual process takes years to complete over millions of acres. Fortunately, startups like Overstory are working with utilities to leverage AI and satellite data to better manage vegetation. According to Indra den Bakker, CEO of Overstory:
With our technology, we're able to do that same monitoring in one day – a massive increase in site revisitry. By providing more detailed information, we help our customers do more targeted vegetation management and help them understand current and future risks. 
For when vegetation management isn't enough, San Diego Gas & Electric (SDG&E) uses synchrophasors for near-instantaneous transmission line monitoring. By sending power and voltage stability metrics up to 60 times a second, synchrophasors unlock the potential for SDG&E to de-energize failing lines before they hit the ground and spark fires. 
Although it sounds counterintuitive, organizations such as the California Air Resources Board and the California Department of Forestry and Fire Protection (CAL FIRE) also prevent wildfires through prescribed burning. Controlled fires reduce excessive amounts of brush, shrubs, and trees which lead to more catastrophic wildfires. 
Innovators: Buzz solutions (AI for grid inspections), eSmart (drone-based infrastructure inspections), Linevision (overhead line monitoring), Overstory (vegetation intelligence)
Disaster Response
As crews in California mobilize to battle further fires, first responders are deployed to destinations up and down the coast subject to reactive fire sightings. While utilities have in-house fire modelers who can forecast years ahead, game-time predictions prove to be difficult as high winds spread fires faster than models can solve. 
Companies have deployed data- and imagery-driven tools to help firefighters do their jobs more efficiently. Microsoft partnered with the Department of Energy on AI tools to provide real-time information to first responders. Planet Labs and Salo Sciences released a tool called California Forest Observatory to create a detailed view of the state's forest. Startups like One Concern and Terrafuse use predictive platforms to model how fires might spread as they are burning. According to Joe Paluska, CMO of One Concern:
One Concern's beta solution leverages a constant stream of data from a variety of satellite sources, dynamic weather data, updated vegetation characteristics and fuel maps, and high-resolution topographic data, as well as on the ground information provided by sensors, firefighters and incident commanders to provide real-time situational awareness.
In regions most likely to be affected by power shutoffs, utilities implement Resilience Zones, temporary microgrids for essential services like hospitals and grocery stores. Companies like Switched Source are also trying to provide utilities with increased resiliency during emergency events by giving their systems more flexibility to redirect power flow. 
Innovators: Clevest (mobile workforce deployment), Descartes Labs (geospatial data platform to detect wildfires), ISeeChange (community weather and climate sightings), LaderaTech (fire retardant to stop fires before they start), One Concern (climate resiliency software), OroraTech (wildfire detection and monitoring from space), Rain.aero (automated drones to shut down wildfires), Switched Source (grid power flow technology), ZoneHaven (tools for wildfire emergency response)
Rebuilding in the aftermath
After the fires stop raging, homeowners and communities struggle for years to rebuild their homes and livelihoods. Companies like Homebound specialize in the start-to-finish wildfire rebuilding process. Nikki Pechet, the CEO of Homebound explains:
In October of 2017, over 6,000 homes burned down in Northern California. In the aftermath, homeowners felt helpless trying to navigate the maze of insurance, architects, permits and contractors. Our founding team witnessed this firsthand, having lost our own homes, schools and communities, and as we looked ahead at the rebuild process, we simply knew there had to be a better way. Homebound incorporates technology and a customer-first approach to simplify the rebuilding process and alleviate the stress, complexity and uncertainty that homeowners face after a natural disaster.
Beyond construction, Homebound helps homeowners navigate insurance policies, permitting, and financing. In the rebuilding process, the company helps replace fire-vulnerable homes (many built before 1960) with homes that include more resilient materials and defensible space that follow California's most conservative and up-to-date building codes. 
Innovators: Boxabl (fire-resistant modular homes), DroneSeed (using drones to replant trees), Mighty Buildings (3D printed houses), Woodoo (upgrading the performance of wood), Yuhu Builders (steel frame homes) 
Key Takeaways 
Wildfires are complex: There is no one-fits-all solution when it comes to climate disasters. The challenges from wildfires range from the many and fast-changing factors that can cause their spark and spread, to their lasting health and environmental effects, to their devastating impacts on affected communities.

Cross-industry solutions: Technical solutions deployed within other industries can be applied to wildfires. AI and satellite data help to monitor wildfire-prone zones and develop better real-time fire models. A digital platform for homebuilding enables communities to rebuild faster and become more resilient to future fires. 

Sales channel challenges for innovators: Startups in the wildfire space often face a mismatch between the buyers and the end users. As with many B2B2G sales approaches, utilities and government agencies have long RFP cycles and are reluctant to depend on startup technologies because they themselves face too much liability.  

We're in this together: This is the hand that we've been dealt, and we're now being forced to react. Technology can only go so far and this is an issue at scale that requires people from all different backgrounds. Fortunately, entrepreneurs, scientists, regulators, policymakers, community leaders, and voters are increasingly answering the call to action on climate after being personally affected by wildfires (e.g., the smoky haze and toxic air quality now shifting across the US). 
Interested in diving deeper? Check out our full interviews with Indra from Overstory and Matt from CARB.
---
In the News
PWC: "The State of Climate Tech 2020" report finds that despite early days for climate tech (~6% of capital invested in 2019), VC investment in this space has grown 5X faster than overall VC. Unlike Cleantech 1.0, corporates are having an outsized impact, with almost a quarter of climate tech deals coming from corporate investors and ~300 companies committing to achieve net zero before 2050. 
Politico: CA Governor Newsom super-charged the EV world this week when he signed an executive order to entirely phase out new sales of gasoline-powered cars. Trump pegged the order as anti-consumer while Newsom argued that the transportation sector is CA's largest source of 2020 emissions. 
Walmart: The world's largest retailer committed to zero emissions by 2040 and the protection of >50 million acres of land and 1 million sq miles of ocean by 2030. Like Google's announcement last week, Walmart will achieve net zero without buying offsets but rather by decarbonizing the electricity used in their 11,500 stores and vehicle fleets.
CNN: Airbus has unveiled three concepts to build zero emissions planes by 2035. The global aviation industry has committed to cutting emissions to half their 2005 levels by 2050 and plan to do this primarily through the use of hydrogen in aviation fuel. 
The Verge: The big takeaways from Tesla's Battery Day: producing "tabless" batteries in-house, eliminating cobalt, a Plaid powertrain to get to speeds of 200 mph, a new cathode plant, and an eventual $25,000 electric car in ~3 years.
Nikola: Founder Trevor Milton stepped down as Chairman amid allegations from Hindenberg that he misled investors. Despite the accusations, GM and Nikola will move forward with their strategic partnership and replace the Chairman position with Steve Girsky, a previous Vice Chairman of GM. 
Bloomberg: Morgan Stanley became the first major US bank to commit to net-zero "financed emissions" by 2050 - and it likely won't be the last. The bank did highlight the lack of consistent CO2 finance methodologies as a major challenge for implementation. If you're focused on this area - we'd love to chat! 
Forbes: Smithfield pledges to become the first carbon-negative meatpacker, perhaps in part hoping to reverse prior controversy including lawsuits over the company's role in COVID deaths and environmental justice issues. 
Scientific American: The battle over RBG's vacant SCOTUS seat puts future energy and climate policy before the bench. Legal experts predict that adding a sixth conservative judge would trigger a reexamination of the landmark 2007 climate case Massachusetts v. EPA and readings of the Clean Air Act. 
---
Pop-up
The global wealthiest 1% emitted twice as much as the poorest 50% of the population between 1995 and 2015. Sigh.
Carbon Tracker is back at it again with warnings that the dairy & meat industries' valuations won't stand up to the physical and economic risks from climate change.
A giant clock in the middle of Manhattan now displays the countdown to Earth's deadline of staying below 1.5 degrees Celsius of warming. As of Saturday, the clock reads 7:103:15:40:07 — representing the years, days, hours, minutes and seconds until that deadline.
Governors Island may get rezoned as a climate solutions center focused on research, education, and public engagement. 
The six topics for the first presidential debate were released, with climate change failing to make the agenda. A group of senators led by Edward J. Markey responded by calling on the commission to ensure that moderators ask about climate change in this and every future debate. 
Opportunities & Events:
💡 If your team is working to improve urban life – from emissions-free mobility to microgrids – submit your application to URBAN-X to be one of ten early-stage startups in their next program starting in December. Apply before October 8.
🗓️ 9/30 Joules Accelerator Kickoff: Join to hear startups pitch from Cohort 7 of Joules Accelerator, focused on energy and sustainability.
🗓️ 9/30 Mobility Post-COVID-19: Sign up to learn more about investing in mobility tech during and post Covid, from corporate investment professionals, VCs, and founders.
🗓️ 9/30 FERC Technical Conference on Carbon Pricing: Join to hear energy experts weigh in on optimal carbon pricing structure for RTO/ISO-administered markets, addressing both legal and technical issues.
---
Jobs
Business Operations Manager @Aquicore
Business Development Manager @Overstory
Manager of Storytelling @Drawdown
Long term strategy @Impossible
Equity Impact Investment Associate @JPMorgan
Technical Sales Lead @Rizome
Various roles @Lilac Solutions
Senior Business Relations Representative @Citizen's Climate Lobby
Industrial Venture Associate @Third Derivative
Energy Executive-In-Residence @Maryland Energy Innovation Accelerator
Engagement Intern @Climatebase
CEO @Blue Dot Motorworks
---
Feel free to send us new ideas, recent fundings, or general curiosities. Have a great week ahead!