Discover more from Climate Tech VC
The leading resource on climate and innovation.
Over 37,000 subscribers
🌏 Offering a climate tech mental model and SPAC #30
Shayle Kann's climate tech mental model and David Crane's climate SPAC
Happy Monday! 
In this issue, we present a simple mental model for evaluating climate tech investment brought to us by Shayle Kann, from Energy Impact Partners, and sit down with David Crane, former CEO of NRG, who shines some light on his new climate-focused SPAC and why this space is heating up. 
Investment highlights this week include plant-based eggs, a climate reinsurance startup, and a biological waste management solution.
Thanks for reading!
Not a subscriber yet?
---
A simplified mental model for climate tech
Climate tech is in its early stages, and the capital pouring in is still figuring out how to approach wide-ranging opportunities in this space. Shayle Kann, Managing Director at Energy Impact Partners, has (very helpfully) broken down his mental model and capital allocation approach for climate tech into 1) Understand 2) Mitigate 3) Deal. 
1) Understand it
Before taking steps to mitigate or adapt to climate change, we first need to gather information and generate insights about our planet and how it changes from emissions. Shayle outlines the below subcategories focused on understanding climate change and its impacts. We listed a few examples of technologies within each sector (some of which we've featured):
2) Mitigate it
The second task, which is really the core of climate tech (and therefore should receive the lion's share of climate capital allocation), is mitigation. This is by far the hardest to define and segment, as GHGs are emitted at all stages of the value chain within the five essential industries that contribute 86% of emissions. Shayle proposes the table below to classify mitigation solutions, arranged by industry on the top and value chain steps on the left.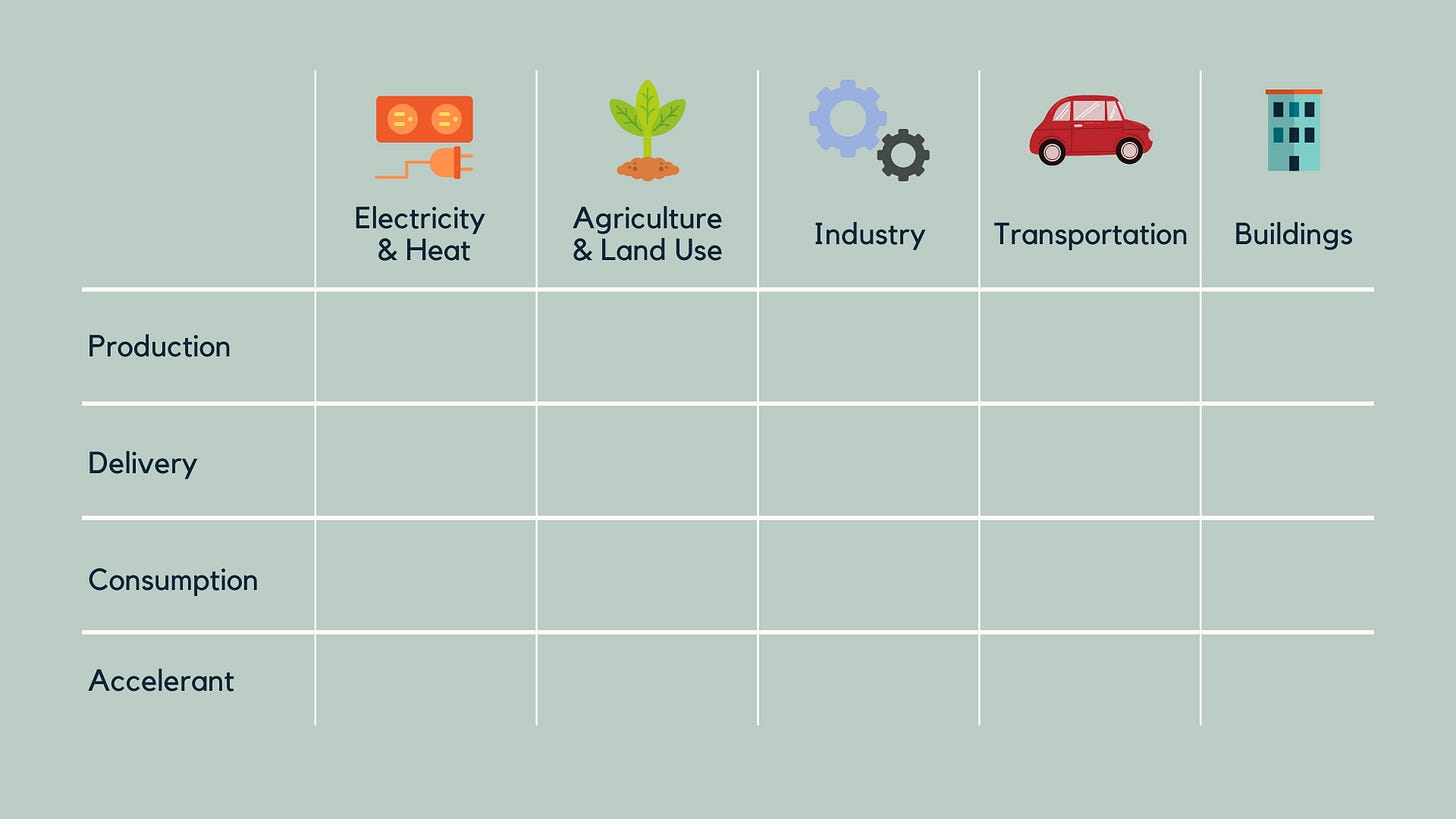 We can apply this framework in Transportation to the Electric Vehicle value chain:
Sometimes one company has the ability to fit within multiple steps along the value chain. Tesla, in this example, has made a tremendous effort to vertically integrate from production to consumption. Value chains within different sectors can also be heavily dependent on one another (e.g., electricity and heat supplies the energy for EVs) and may even lead to decarbonization feedback loops (e.g, renewables supply clean electricity, which fuels non-emitting EVs, which then act as energy storage units for more reliable electricity production). 
3) Deal with it
For climate problems that are past the point of mitigation, we need tools which can deal with or adapt to them (see our coverage on adaptation and wildfires). This is the area of climate tech that may unfortunately grow over time as our planet reckons with the emissions already released into the air. 
---
Deals of the Week (10/19-10/25)
🌱 BrightFarms, an Irvington, NY-based indoor farming startup, raised $100m in Series E funding from Cox Enterprises and Catalyst Investors. More here.
🥚 Eat Just, a San Francisco, CA-based maker of plant based eggs and mayo, raised $100m from Proterra Investment Partners Asia to build its first factory in Asia. TechCrunch has more here.
♻️ Allonnia, a Boston, MA-based waste exploring biology-based waste management solutions, raised $40m in Series A funding from Ginkgo Bioworks, General Atlantic, Cascade Investment, and Viking Global Investors. More here.
🚲 DANCE, a Berlin, Germany-based e-bike subscription company, raised $17.7m in Series A funding from HV Holtzbrinck Ventures. TechCrunch has more here.
⚡ Budderfly, a Shelton, CT-based energy efficiency platform, raised $7.8m in funding from Edison Partners, Balance Point Capital, and Connecticut Innovations. More here.
🌲 Kettle, a San Francisco, CA-based reinsurance startup focused on climate change, raised $4.7m in Seed funding from True Ventures, Acrew Capital, Homebrew Ventures, Anthemis, and Inspired Capital. More here.
💨 Ways2H, a Long Beach, CA-based producer of renewable hydrogen from waste biomass, raised $2.5m in from Pacific6 Enterprises. More here.
☀️ SunRoof, a Stockholm, Sweden-based solar roof developer, raised $2.4m in Seed funding from SMOK Ventures, LT Capital, EIT InnoEnergy, and FD Growth Capital. More here.
Later-Stage Fundings / New Funds:
Avangrid, a subsidiary of Spanish energy giant Iberdrola, is buying the big New Mexico-based power company PNM Resources in a $8.3b deal. More here.
rePlant Capital has committed $250m to farmers transitioning to regenerative or organic practices, with roughly $200m going towards loans based on soil health metrics. More here.
---
David Crane's Climate SPAC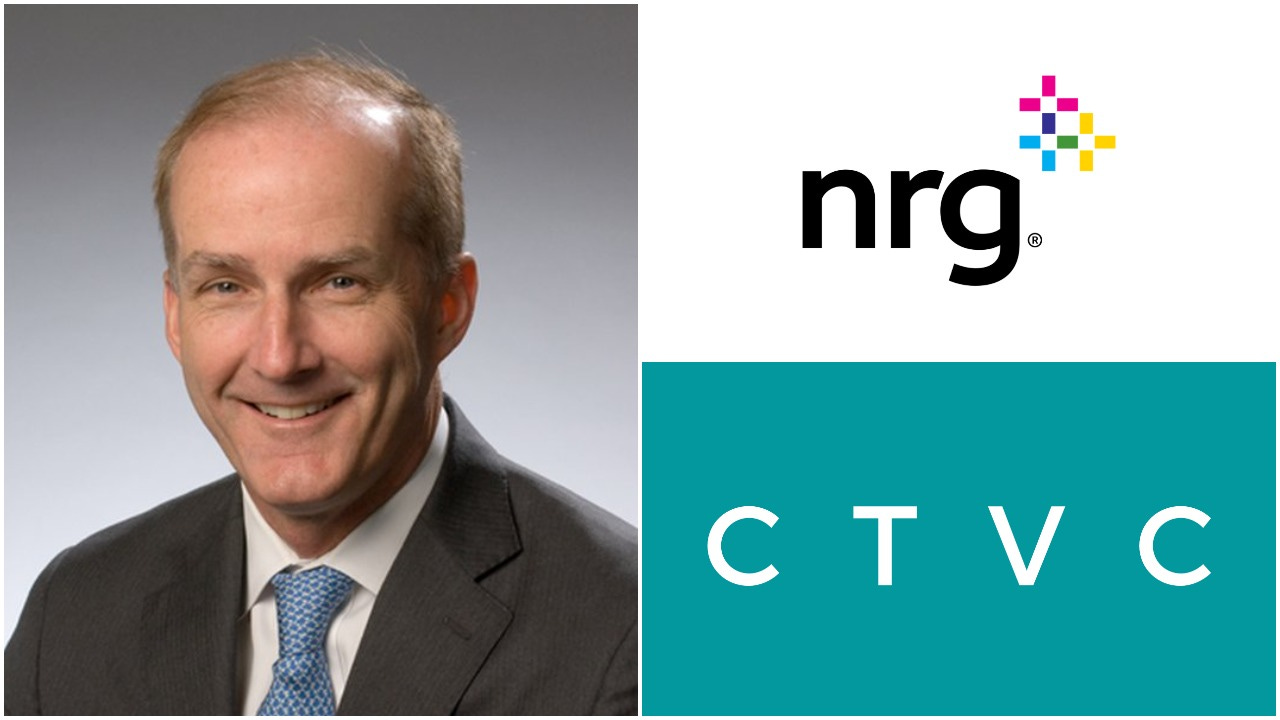 David Crane, best known as the former CEO of NRG Energy ousted in 2015 after years of trying to transition NRG into clean energy, has raised a high profile $230M Climate SPAC along with a group of energy industry veterans. Climate Change Crisis Real Impact I is branded as the "world's first climate-focused SPAC" and is targeting sectors such as renewables, grid stability, EV charging, circular economy, nature-based solutions and climate-friendly liquid fuels. **Read our previous coverage on SPACs. [The newsletter version has been edited lightly for length, so check out our website for the full feature].
How did your past experiences lead you to starting one of the first climate-focused SPACs? 
Most people know me from NRG. I tried to take a large power generation company that was concentrated on coal-fired power and turned it into a clean energy company fit for the 21st century – meaning not only green but also distributed and more customer facing. That obviously didn't work. Starting five years ago, since my time there ended, I've been working with emerging growth companies in the clean energy space. I actually looked at raising a climate SPAC three years ago, but the timing wasn't right. When I looked again in 2020, this new phase ushered in by Nikola changed several circumstances and made this an extremely auspicious time for a climate SPAC.
Why the sudden hype in SPACs this year? Why have SPACs been the go-to vehicle for private companies in the ESG space going public? 
There are two reasons. The main reason now is that there has been this historical inversion between public markets and private equity when it comes to the value ascribed to long term growth potential. Previously, if you had a company with a risky, exciting growth story, it could only prove this out in private markets. Public markets were deemed to focus on short term results above all. Nikola has shown us the incredible level of interest from the public market for untapped early stage clean sectors like hydrogen powered transportation. 
The second reason stock markets are now compelling for green companies is just simple supply and demand. The amount of money flowing through sovereign wealth or pension funds trying to find a home in public market "ESG" investment is crazy high. There is a serious oversupply of money that wants to invest in sustainable names, relative to the lack of these companies available in the public market. 
Do you worry about all these pre-revenue companies holding up in the public markets for years? 
I think a good number of these high risk, "moonshot" companies are going to fail but of the ones that succeed, there is a good possibility that one or more emerges as the "Google, Apple, or Amazon" of clean energy. We're early in the cycle so far so we haven't seen any failures, but when they occur, we will see whether investors are still enthusiastic about the swing-for-the-fences attitude typically seen in VC. Over the next 3-6 months, we think this irrational exuberance will abate and lead to a flight to quality. When we developed our climate SPAC a few months ago, we anticipated this evolution of the marketplace and brought in high quality sponsors and directors with PIMCO's backing, who would signal to the market that we're a "Blue Chip" SPAC in the climate space. No matter what, though, I think the SPAC form will survive, simply because SPACs are a much better option for target companies.
---
In the News
Will Japan be next to join the carbon-free nations club? According to government sources, Prime Minister Yoshihide Suga plans to announce Japan's pledge and plan to go net-zero by 2050 in his first policy speech in the Diet next week. 
ConocoPhillips is the first US oil & gas major to pledge net-zero emissions by 2045-2055. The announcement still trails European majors' as it excludes essential Scope 3 emissions. Ironically, on the same day as the pledge, CP also announced a huge $9.7bn acquisition of Concho Resources, vaulting CP's status to the 3rd largest US shale oil producer...
Lazard's annual energy storage report shows the rapidly declining costs of storage technology, a prerequisite for renewables adoption.
Bloomberg Green analyzed the political donations of the S&P100 and found that even corporates with climate pledges support lawmakers who stall climate legislation. For every $1 in lobbying spent supporting pro-climate Congress members, $1.84 dollars goes to obstructionists.
Biden's climate plan would reduce emissions by 6.6m tons by 2025, significantly lagging the Green New Deal's proposed GHG reduction of 263m tons. The difference largely comes from building energy efficiency - Biden would weatherize homes at a rate of .5m homes/yr vs. GND's 8.0m/yr). President Trump once again made this all about size, summarizing it as an issue of "tiny windows."
China built the world's second largest solar plant. Relative to China's existing generation fleet, the 2.2GW solar facility faces up against the ~1000GW coal capacity, one step closer but still extremely far from their 2060 goal of carbon neutrality. 
Following California's lead, New Jersey officials submitted a policy to ban new gas-powered car sales by 2035. With almost 50% of NJ's emissions coming from transportation, this policy will help the state reach its goal of 80% CO2 reductions by 2050. Right next door, Gov. Andrew Cuomo announced an expansion of New York's current clean energy mandate to 70% by 2035.
Australia's Queensland state and HSBC unveiled a "world-first investment" in an effort to protect the Great Barrier Reef, coinciding with scientists's recent announcement that over half of the Reef's corals are now dead.
---
Pop-up
GMC launches the most "American" EV to-date. 
SpaceX will launch a satellite on Nov. 10 that can measure rising sea levels from orbit.
Facebook and Carnegie Mellon launched the Open Catalyst Project to accelerate discovery of new catalyst materials for renewable energy storage.
105 pages of leading thinking and planning for Californian CCS from The Energy Futures Initiative and Stanford. 
TNC explores 13 nature-based climate solutions that could restore the human impact on California's natural carbon storage. 
NPR is producing a special series called "Climate Risk Hits Home" – profiling individuals who have been impacted by recent climate disasters.
H&M unveiled an in-store clothing recycling system in Stockholm. 
Between 11/24-12/3, you can sell your old IKEA furniture back to the company which they will then either resell, recycle, or donate it back to community projects focused on COVID relief.
Opportunities & Events:
💡 11/6-11/13 SF Climathon 2020: Explore and create data-driven solutions to help California's Central Valley recover green.
🗓️ 10/28 TEDxElemental: Hear the stories behind 19 of the world's most innovative climate startups from Elemental Excelerator's ninth cohort.
🗓️ 10/26-10/30 The Verge 20: Join 10,000 clean economy leaders for plenaries, virtual tours, networking opportunities, and a virtual expo to advance systemic solutions to the climate crisis. 
🗓️ 10/27-10/28 Tough Tech Summit: Join The Engine for their (invite only) annual two-day conference on building and investing in convergence innovation.
---
Jobs
Associate & Executive Director @Pollination
Associate, Impact Advisory @Jordan Park
Various Roles @DC Green Bank
Program Manager @Volta
Strategic Finance Associate @AllTrails
Portfolio Lead @Flexport Capital
New Ventures Associate @ThredUP
---
Feel free to send us new ideas, recent fundings, or general curiosities. Have a great week ahead!