🌎 Protein from thin air and beyond petrol (again) #19
An interview with Air Protein CEO and a breakdown of BP's pivot
If you've been wondering when your next burger will have not just a lower carbon footprint but come from carbon recapture, you're in luck; Lisa Dyson is repurposing '60s NASA tech to make proteins from excess CO2. We're also exploring whether BP's announcement alludes to more future big oil commitments. The issue is topped off with deals, jobs, and the biggest green bond sale ever from none other than Google.
Thanks for reading!
Not a subscriber yet?
---
Pivoting 'Beyond Petroleum'
Many companies have announced significant strategic shifts to stay afloat during the pandemic. One of the most dramatic transformations was announced this past week. BP, whose name was an acronym for "British Petroleum" before a rebranding two decades ago that it claimed stood for "beyond petroleum," is now trying to live up to its moniker.
On Tuesday, BP announced it would pivot away from its core oil business. On the day of the announcement, BP's stock rose 7%.
BP's commitment builds upon a pledge made in February by its new CEO to cut emissions to net zero by 2050. To achieve this goal, BP committed to taking several steps: (1) slash oil and gas production by 40%; (2) boost its annual low-carbon investments by 10x – including hydrogen, bioenergy, electric vehicle charging, and carbon capture and storage – to about $5 billion annually; and (3) develop approximately 50 gigawatts of net renewable energy generating capacity by 2030, a 20-fold increase from 2019.
Note: BP still has a 20% ownership stake in the Russian oil company Rosneft, which accounts for 40% of the company's total oil production.
Why is BP making this commitment now?
On the day of the announcement, BP reported a significant Q2 loss. The company also devalued some assets due to expected lower commodity prices. Oil prices dropped during the pandemic, and some experts predict they may not recover soon (if ever).

Despite record cashflows in 2018 and 2019, oil industry share prices remained low as investors were concerned about the prospects of future projects. Fear of stranded assets – those suffering unexpected or premature devaluations or write-downs – has increased.
Why does this matter?
Oil and gas companies are among the few organizations with the financial balance sheets to invest in low-carbon and energy emissions technologies on a large scale

The economics of carbon capture and storage (CCS) only work if oil prices are high. Only in these situations are oil majors more willing to use alternatives like CCS to limit emissions

As it shifts to clean energy, BP will continue to produce as much useful energy in the future as it does today, according to Carbon Commentary
Will other oil and gas majors follow a similar path?
According to Carbon Tracker, a financial think tank, BP's commitment makes it "unquestionably the industry leader" in emissions reduction efforts. However, while BP has paved the way, other oil industry giants are unlikely to follow suit.

Other big oil companies, such as ExxonMobil and Royal Dutch Shell, seem less willing to make commitments like BP's after promising investors for decades that oil production will continue to rise. Saudi Aramco, the massive Saudi oil monopoly, has also avoided discussions to leave behind oil. Their reluctance may be driven in part by the additional costs of transitioning to clean energy. BP is expected to see profit margins decrease as it dismantles its core business and ramps up capital spending in renewable energy.
---
Deals of the Week (8/4-8/10)
🌱Indigo Ag, a Boston, MA-based agtech startup, raised an additional $360m from Alaska Permanent Fund and Flagship Pioneering, bringing their total Series F financing to $535m. More here.
⚡ChargePoint, a Campbell, CA-based provider of EV charging stations, raised $127m in Series H funding from American Electric Power, Chevron Technology Ventures, Clearvision, and Quantum Energy Partners. TechCrunch has more here. 
📦 TemperPack, a Richmond, VA-based sustainable packing startup, raised $31m in Series C funding from Wheatsheaf Group, Revolution Growth, SJF Ventures, and Tao Capital. The company accelerated its raise after rising demand for its ClimaCell thermal liners (which replace Styrofoam) during the pandemic. Crunchbase has more here.
☀️Palmetto, a Charleston, SC-based solar financing software startup, raised $29m in Series B funding from Evergy Ventures, Arctern Ventures, Shell Ventures, Greycroft, Lerer Hippeau, and Box Group. More here. 
🌱AppHarvest, a Morehead, KY-based high-tech greenhouse operator, raised $28m in Series C funding from Narya, ValueAct Capital's Spring Fund, Revolution's Rise of the Rest Seed Fund, and S2G Ventures. The company's greenhouses use 90% less water than traditional farming practices and increase food yield by 30x. Bloomberg has more here. 
💨Ecoplant, an Israel-based provider of "industrial IoT energy efficiency as a service", raised $8m in Series A funding from Ecolab. The company optimizes compressed air systems, which account for almost 60% of the planet's energy expenditure. More here. 
🔋Bramble Energy, a UK-based hydrogen fuel cell startup raised £5m in funding from IP Group, Parkwalk, and UCL Technology Fund. The company's technology can be manufactured within already existing supply chains (e.g. printed circuit board factories). More here.
♻️Greyparrot, a UK-based startup focused on improving recycling efficiency, raised an additional $1.1m in funding from 360 Capital's new fund A+360. With global recycling rates at a mere 14%, the company aims to use AI to recognize different types of waste and maximize recycling efficiency. More here.
Later-Stage Fundings / New Funds:
🚗Lordstown Motors, a Lordstown, OH-based EV-truck manufacturer, went public via a merger with SPAC DiamondPeak Holdings. More here. 
---
The Alchemy of Air: Carbon-to-value and an interview with Air Protein 
We often talk of carbon as a nuisance, a negative dioxide externality that we accidentally produced too much of during the Industrial Era and now consciously continue to spew despite our relative climate enlightenment. 
What if that nuisance could be put to use making something valuable? 
The concept isn't rocket science, but the original idea literally was. During the space program in the '60s and '70s, NASA rocket scientists originated an idea to convert excess carbon dioxide from respiration into nutrients for astronauts to eat. The concept didn't get off the ground until Lisa Dyson started a company called Air Protein to commercialize the production of air-based meats. (Full true story below.)
However, this alchemy of air needn't be extraterrestrial. In fact, there is a growing industry of businesses that, with a little ingenuity, manipulate carbon dioxide that's been captured from the air into value-added products. We wrote a few weeks back about the Urban Future Lab, Greentown Labs, and Fraunhofer USA teaming up to form the "Carbon To Value Initiative" to help grow start-ups that have figured out how to turn CO2 into luxury goods. 
The 'value' label need not be relegated to diamonds and vodka. As McKinsey demonstrates in yet another delightful bar mekko, there are various industrial applications of CO2 as an input into value-added materials. By McKinsey's projections, there will be 500 megatons per year of demand by 2030. CO2 as an input remains a cost for most fuels and feedstock chemical production, but manufacturers are willing to pay (at least a little) for CO2 as an input in applications as broad and prevalent as cement, plastics, and food & beverage.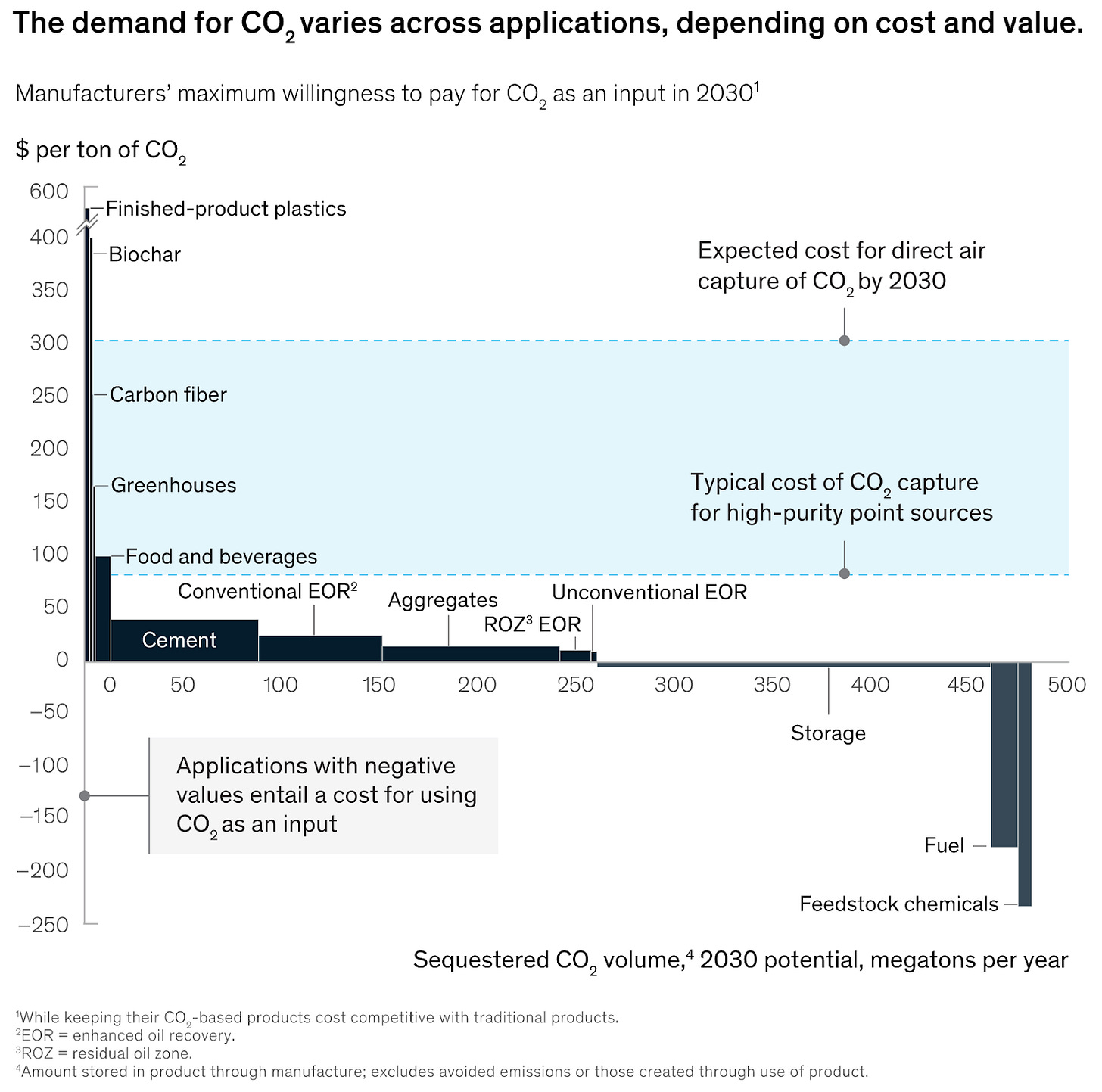 From

McKinsey

's

Driving CO2 emissions to zero (and beyond) with carbon capture, use, and storage, published 6/30/2020
Even as groups like AirMiners (a network of entrepreneurs, scientists, and engineers working to "mine" carbon from the air) and the Carbon to Value Initiative build steam, Carbon Capture Utilization and Storage (CCUS, the scientific categorization of these air alchemy technologies) remain woefully immature. 
The IEA categorized over 400 separate clean energy technologies by their readiness to meet the UN's Sustainable Development Scenario (SDS), to reach net-zero global emissions by 2070. Within CCUS, there are almost no "early adoption" or "mature" technologies that are ready for market - let alone on track to meet the SDS goals.
The McKinsey chart and article chooses to focus on applications where manufacturers create a demand for captured CO2. They're willing to pay for CO2 as an input, and later monetize the object of their output (e.g. better cement). Rather than separating the capture and utilization, there are emerging technologies where a little alchemy means that a commodity product (like fertilizer or even meat) captures CO2 as their input to reduce costs versus alternative inputs, have other second order benefits, and then price the output cheaper as a result. 
Air Protein is one such venture focused on producing sustainable protein by accessing carbon dioxide from the air and driving the frontiers of this modern alchemy. We sat down with the MIT Physics PhD and 100 INC Female Founder, Dr. Lisa Dyson: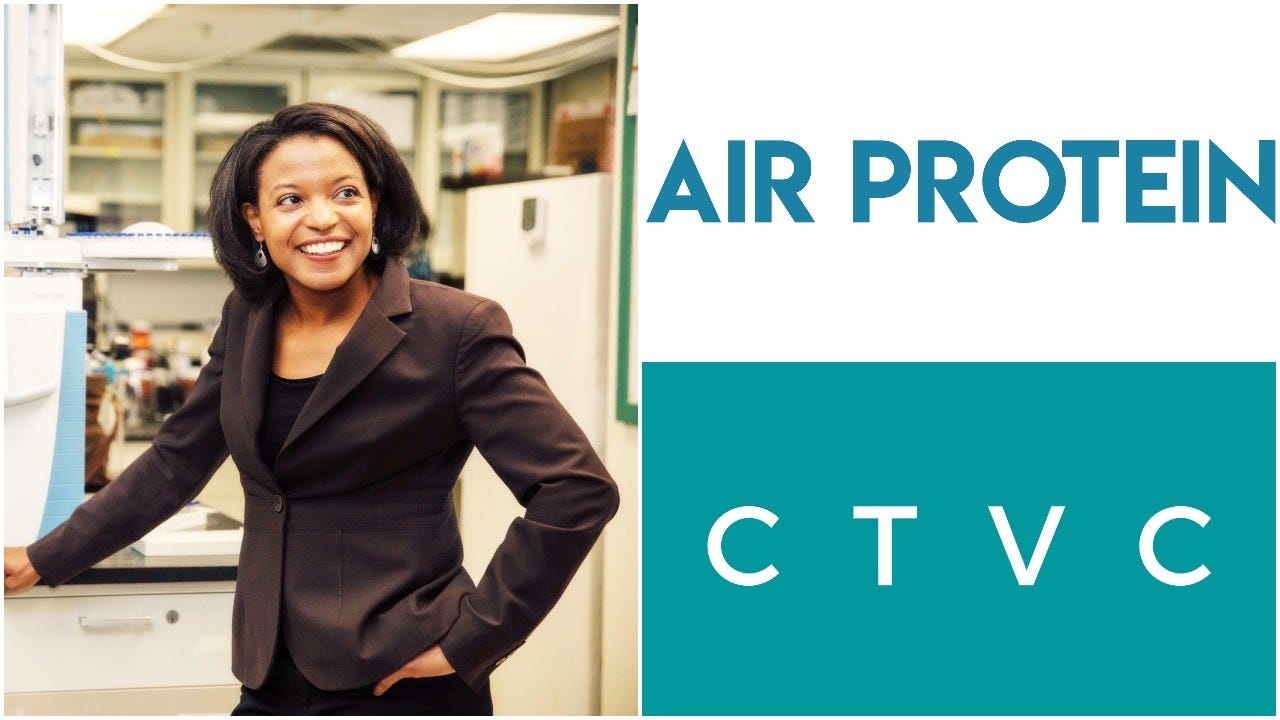 In feeding 10 billion people by 2050, where does Air Protein fit in?
Currently, the global agricultural system consumes a lot of resources, produces greenhouse gases, and takes up an area of land the equivalent of South America and Africa combined. Couple that inefficient process with the need to scale our food production system to feed 10 billion people, and we've got a serious sustainability problem. Air Protein has the ability to be the solution to that problem – it is the most environmentally sustainable way to make protein. 
To produce our protein, we don't need farmland, nor a specific geography or season. Essentially, we've removed conditions traditionally required for production – which positions us to address food security in communities where access to arable land is not available.
What are the inputs and process to make protein from "the air?"
It's a bioprocess that we developed that was inspired by work done at NASA during the space program in the '60s and '70s. We capture excess carbon dioxide, an element of the air we breathe, and, through a process involving microbes that resembles reverse beer brewing, repurpose it as a value-added protein. 
Where does Air Protein fit in the evolving (alternative) meat market?
COVID-19 has accelerated the growing interest in the largest food sector, meat, particularly in the form of alternative meats. As consumers focus on health and sustainability, the alternative meat market is forecast to expand to 40-50% share of meat consumption over the next few decades. 
At Air Protein, we are reinventing meat. First, our technology is fast; Air Protein produces the protein to make a steak in 4 days, compared to the 2 years required to grow the corn and cow to make a meat steak. Second, we also focus on health and nutrition. Critics argue that the big alternative meat brands' products aren't so healthy; Air Protein products are built with complete proteins full of vitamins and bioavailable minerals. And thirdly, our protein ingredient is carbon negative; we use renewable energy to sequester carbon dioxide in our proteins – that traditionally grown steak that shows up on your plate definitely doesn't. 
Given the benefits of speed and nutrition, is there a price premium on your premium product?
Our goal is to democratize access to nutritious foods. Because of the favorable economics of our platform, we expect to be cost competitive at scale with the commodity meat industry. 
What's next for Air Protein?
We're focused on commercialization, production scale up, and product development of this world changing technology. I'm so excited to introduce the world's first air-based meat. We've already demoed our first chicken product, and will soon introduce multiple different meat alternative products that have significant sustainability impact, while delivering health and nutrition to consumers. We dream big at Air Protein and are focused on offering a significant solution to this meat challenge by creating value out of carbon. 
To learn more about Air Protein, Lisa Dyson welcomes people to visit their website and to watch her popular TED Talk. Air Protein is always open to connecting with and meeting great people, particularly food scientists and product development experts., and will be ramping up staff soon.
---
In the News
ABC.XYZ: Alphabet sold $5.75bn of bonds at record low yields (7 years at 0.8%) in the largest ever corporate bond sale dedicated to ESG. The bonds will be used to finance clean energy projects, green buildings, small and midsized businesses impacted by COVID, and Black entrepreneurs.
Greentech Media: Shell's Nature-Based Solutions business (which has committed $300m over 2 years) has announced its first acquisition in Australia-based startup Select Carbon. The Australia-based startup generates carbon offsets by working with landowners to improve the carbon yield of their land. 
Reuters: An investor group with $16T+ in AUM launched the "Net Zero Investment Framework" to aid pension funds and other institutional investors in aligning their portfolios with the Paris Agreement. TBD if the plan will actually get institutional investors to "net zero" – a goal that's hard enough for individual companies, let alone owners of hundreds and thousands.
Axios: Spin, the Ford-owned scooter company, has pledged to go "carbon negative" by 2025 (5 years earlier than fellow transportation startup Lyft). While micro-mobility companies have often been perceived as emissions-friendly, they still have a substantial footprint (i.e., emissions in their supply chain and transporting vehicles for charging). 
Gates Notes: According to Bill Gates, within 20 years, the economic damage from climate change will be as bad as having the equivalent of a COVID-sized pandemic every 10 years. Watch Gates talk more about this issue here.
HelloFresh: The meal-kit provider is the first in its space to commit to 100% carbon neutrality through partnering with Planetly to offset their emissions. 
---
Pop-up
Here's a well-reported profile of Atlantic Sapphire's complex and gargantuan aquaculture "farm" in Florida. Sustainably producing salmon is an engineering feat as daunting as producing fake meat – will the consumer demand flow over, too?
Welcome to the age of digital tree monitoring? Vodafone is providing IoT sensors to attach to trees for a 3-month study monitoring growth and health in the UK's forests. 
Now even Chipotle is getting into sustainable fashion. The Mexican fast-casual chain is launching a clothing line using dye made from avocado pits.
Through a guided curriculum, Carbon Removal Academy provides a non-technical entry point for entrepreneurs, activists, and policymakers to learn more about carbon removal.
Opportunities & Events:
💡 9/8: M-Corps & Hardware Scaleup: Apply for a NY-based hardware-focused climate tech accelerator.
💡 9/4 Beyond the Bag Challenge: Have an idea to make shipping more sustainable? Apply here for funding.
🗓️ 8/11 Activate Fellowship: Are you an entrepreneurial scientist or engineer? Join a webinar to learn more about becoming an Activate fellow, flush with $100K in research funding and a $110K yearly cash stipend.
🗓️ 8/12 How Policy Affects Innovation: Dawn Lippert, CEO of Elemental Excelerator, will interview climate tech founders in a conversation regarding policy opportunities to support innovation and clean jobs in a Biden Administration. Check out our previous issue spotlighting EEx.
🗓️ 8/13 Climate Change and Sustainable Food Futures: Learn how Impossible Foods is thinking about impact and a plant-based nutrition future.
---
Jobs
Firmware Engineer @SparkMeter
ML and Computer Vision Scientist @Cloud to Street
Director of Electrical Engineering & Hardware Development @RoadPower Systems
Supply Chain Manager @Atlantic Sapphire
Computer Vision Engineer @Noria Water Technologies
Sustainability Program Manager @Facebook
Multiple roles @20tree.ai
VP Engineering, VP Manufacturing, Chemist @Lilac Solutions
👋We're looking to add a graphic designer to our team! If you or anyone you know is graphically-inclined and passionate about promoting climate tech, please reach out here.
---
Feel free to send us new ideas, recent fundings, or general curiosities. Have a great week ahead!