Discover more from Climate Tech VC
The leading resource on climate and innovation.
Over 37,000 subscribers
🌍 Will the rubber meet the road for electric trucks? #11
Plus, the role of climate tech accelerators
Thanks to everyone that reached out after last week's note on climate and racial justice. Its publication led to a number of meaningful conversations, and we're grateful for everyone who reached out to help us learn and grow. We'll be sharing more on these topics in upcoming issues, along with spotlighting different community voices. 
We were pointed in the direction of this incredible open source of educational materials, petitions, places to donate, businesses, organizations, and social media accounts that are focused on exploring and acting at the intersection of sustainability and race (thank you, Andrew Vann!) 
In this week's issue, we cover the race forward in electric trucking, new deals, and interview Third Derivative and Techstars Sustainability Accelerator on the role and difference of climate tech accelerators from other tech accelerators (tl;dr, there's no killer app for global warming). 
Thanks for reading!
Not a subscriber yet? Sign up here. 
---
Will the rubber meet the road for electric trucks?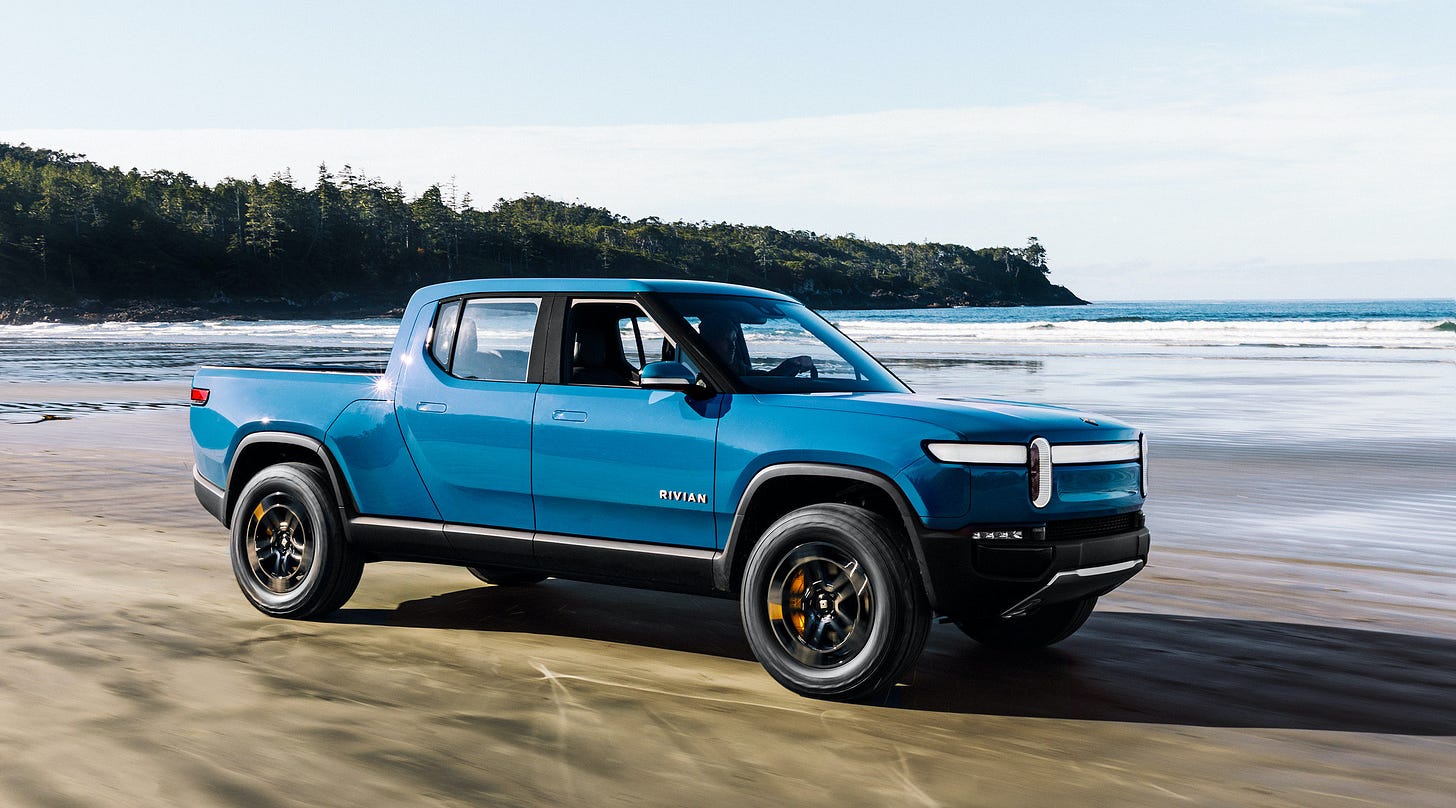 Rivian's all-electric R1T pickup truck (

American Inno

)
New electric semis, pick-up trucks, and SUVs could signal a new stage in the electric vehicle (EV) era.
The newcomers
The incumbents
What does this mean?
Automakers are turning to trucks and SUVs to jumpstart their electric transformations. In these $50,000-70,000 vehicles, it's much easier to absorb the cost of an expensive battery than in a $20,000 economy car. The same applies to even pricier semis.
Why does this matter?
Since 2016, transportation has been the biggest direct source of U.S. greenhouse gas emissions. Three-fourths of the sector's emissions come from road transport, which derives most of its energy from petroleum.

On a vehicle-to-vehicle basis, transitioning larger vehicles – the biggest gas guzzlers and CO2 emitters – will have a greater impact than smaller cars. SUVS, for example, are generally 30% less fuel efficient than smaller cars.

On a fleet-to-fleet basis, smaller vehicles account for a greater portion of total transportation emissions than larger vehicles. Of total transportation emissions, 38% came from passenger vehicles, 20% came from medium and heavy-duty trucks, and 16% came from light-duty trucks.

Electrifying America's trucks and SUVs could bring EVs into the mainstream, especially with SUVs accounting for almost half of the nation's auto sales. As larger vehicles go electric, economies of scale will reduce the costs of smaller electric vehicles. Lower prices could lead to greater popularity for electric vehicles, which remain largely a luxury good for wealthier car owners. Broader ownership could, in turn, bring widespread decarbonization to the U.S. transportation sector.
What is likely to happen?
Auto markets continue to shift toward electrification on their own, but the current pandemic significantly slowed the momentum. Both Rivian and Ford delayed their launches by a year due to the virus. Just as Tesla got a major boost from the 2009 US stimulus, automakers working to jumpstart the EV revolution hope to lean on the U.S. government again for support.

The electrification of vehicles and the decarbonization of on-road transport does not stop at the plug. While automakers turn out new electric models, the energy used to create electricity to charge these vehicles also needs to be clean. Fossil fuels are the largest sources of energy for electricity generation in the U.S., with 38% from natural gas and 23% from coal. More renewables need to be added to the grid for a greener transition.

As companies invest more in electric vehicles, we should see parallel investment in at-home and public-access charging stations.
Other Perspectives
The Interchange Podcast: Listen to an episode about "The Strange Hype Around Nikola Motor."

Fortune: Read this article about why the future of cars is not only electric but also Chinese.

NPR: Watch the advertisement for GM's first ever Hummer EV.
---
Deals of the Week (6/8-6/14)
🚗 Xiaolinggou, Chinese automaker Geely's new energy vehicle rental unit, raised $97m in Series A funding from state-owned Ningbo Yincheng Group and Hangzhou Puzhao Technology. The startup's funding signals the parent company's efforts to adopt a new rental model amid declining EV sales. More here.
🍄 MycoTechnology, a Denver, CO-based startup focused on using mushrooms to transform the food industry, raised $39m in Series D funding from Greenleaf Foods, SPC, S2G Ventures, and Evolution Partners. More here. 
✈️ Lilium, a Munich-based company designing the only jet powered transition aircraft in the market, has raised $35m from Baillie Gifford. The startup envisions its all-electric vertical take-off and landing aircraft as part of a taxi-style fleet to ferry passengers. TechCrunch has more here.
🚚 Ontruck, a Madrid-based digital road freight platform, raised $19.3m in Series B funding from OGCI Climate Investments, Cathay Innovation, Atomico, Idinvest Partners, Total Ventures, and Endeavor Catalyst. The startup uses data algorithms to predict peak shipping demand in order to optimize carrier utilization and reduce empty miles. More here.
🏗️ Quaise, a Cambridge, MA-based energy company trailblazing a hybrid deep drilling method, raised $6m in Seed funding from The Engine, Vinod Khosla, and Collaborative Fund. The company is working to develop and commercialize millimeter wave drilling to harness deep geothermal energy. More here.
🌾 Protera, a Chile-based AI-enabled protein engineering company, has raised $5.6m in Series A funding from Sofinnova Partners and SOSV. They have developed a unique process to create safer, more sustainable and economical protein-based ingredients.
🏗️ ECOncrete, an Israel-based environmental tech firm, raised $5m in Series A funding from Bridges Israel and RElab (Goldacre Ventures). The startup develops sustainable concrete for constructing ecologically active infrastructures in coastal and marine environments as well as in urban landscapes. More here.
☀️ Sun Exchange, a South Africa-based crypto-enabled solar leasing platform, raised $3m in Series A funding from ARCH Emerging Markets Partners. The startup operates a peer-to-peer, crypto-enabled business that allows individuals anywhere in the world to invest in solar infrastructure in Africa. TechCrunch has more here.
🌱 Clean Crop Technologies, a Northampton, MA-based startup HVACP technology to reduce crop loss and enhance food safety, raised $2.8m in seed funding from Prime Impact Fund, Factor[e] Ventures, and the Alchemy Fund. More here.
---
Feature: The role of climate tech accelerators
Starting a company is hard. Starting a company in the climate tech space is even harder. Not only do entrepreneurs have to traverse the valley of death common to all startups, but there are a series of valleys of death specific to climate tech startups on the path to scale. Climate tech entrepreneurs face systematic barriers such as longer pathways to market, greater capital needs, and complicated regulatory and scientific risks. When competing with typical Silicon Valley software startups and their high margin business models, climate tech ventures feel these additional hurdles acutely. Yet, we all need climate innovations to succeed to achieve the scale and pressing timeline necessary to meet climate goals. 
Some climate tech startups seek community and support on the bumpy journey to scale by joining startup incubators and accelerators. We've created a comprehensive list of climate tech accelerators and incubators relevant for companies targeting general climate tech challenges as well as specific verticals in energy and food. We also chatted with Bryan Hassin from Third Derivative and Hannah Davis from Techstars Sustainability Accelerator to dig into the specific value proposition and differentiation of climate tech accelerators, outlined below. 
What unique hurdles do climate tech ventures face?
One of the significant reasons that climate tech startups flounder in the valley of death is a mismatch between startups' commercialization pathways and the timelines of key stakeholders along the way. Climate tech startups face extended pathways to market and need significant upfront capital, inherent to their hardware and science-centric business models. All of these challenges sit on top of an uncertain and often chaotic political and regulatory environment which are frequently dealmakers or dealbreakers for these technologies' business models. Climate tech is an interconnected space, and faces risks from all sides of deep tech, corporate strategy, market analytics, and policy, etc.
How should an accelerator for climate tech companies be structured vs the structure of a traditional software accelerator?
Techstars Sustainability Accelerator and Third Derivative have both directly partnered with climate organizations in order to directly integrate climate-specific expertise into their programs. Techstars, which is known for its diverse global offering of accelerators, has partnered with The Nature Conservancy to pair conservation experts with entrepreneurs addressing issues in food, water, and climate. Third Derivative is a joint venture between the Rocky Mountain Institute (RMI) and New Energy Nexus, a perspective which CEO Bryan Hassin explains, "the 250+ deep subject matter experts and unparalleled market insights that RMI is able to provide are unbelievable market guides to help [climate tech entrepreneurs] understand what they need and tap the resources to get there."
Who should be around the table? 
Such partnerships are just one critical piece of the support network needed to enable climate tech startups' disruption through the multiple valleys of death. Said another way, climate tech accelerators must solve for the needs of multiple parties, not just the entrepreneurs. "We use an integrated approach to tackle the world's toughest climate and energy problems. We look at this as a program for startups, investors, corporates, market and policy analysts - all are stakeholders under the same roof involved from the start," added Hassin. 
Investors: Capital providers are wary of cleantech given historical weak capital returns timelines and technologically complex diligence requirements. Accelerator programs allow for early access to pre-screened deal flow of promising climate tech startups as well as extended timelines for investors to get to know companies throughout their early stages of growth. 

Corporations: Bureaucratic companies are hard for startups to penetrate, let alone partner with. It can be challenging to identify the right person to talk to, and require layers of approvals to get a deal to close. Even corporations committed to going carbon neutral / negative face challenges scouting for the new technology necessary to achieve their goals. Accelerators specifically address this mismatch by pairing corporates with technologies that align with their stated goals. 

Market / policy analysts: Organizations such as RMI and The Nature Conservancy contribute expert-level market and policy insight which helps entrepreneurs predict market readiness, foresee risks, and generate a holistic view on business implications. 

Other startups: Accelerators also help entrepreneurs to form connections with other like-minded individuals, in order to share other founders' expertise and knowledge.

Global entrepreneurs: Climate change is a global problem with local effects. Climate solutions require diverse voices at the table. Both Techstars and Third Derivative actively cast a broad global net in sourcing entrepreneurs. The accelerators believe in the potential of those closest to the source - not just those in Silicon Valley - to tackle this global challenge personally. 
Third Derivative is actively seeking applications from entrepreneurs all over the world for its first cohort (apply by June 30). The program offers an optional $100K convertible note with privileged access to over $100mm in follow-on funding, strategic partnerships with global corporations, peer-to-peer networking with fellow startups, and access to RMI's unprecedented insights into market, regulatory, and policy contexts so crucial for climate and energy innovation. 
The Techstars Sustainability Accelerator, in partnership with The Nature Conservancy, connects entrepreneurs, conservationists, corporate partners, and investors to deliver products that can put the world on a path to sustainability. Startups that are selected for the accelerator program will each receive seed funding up to $120K. Additionally, startups get exposure to The Nature Conservancy's programs, projects and partners, as well as Techstars' network mentors. 
---
In the News
Washington Post: Despite the world's economy hitting pause, May experienced the highest CO2 levels @ 417.1ppm. "The buildup of CO2 is like trash in a landfill. As we keep emitting, it keeps piling up" - Ralph Keeping, geochemist at Mauna Loa. The only solutions are long-term emissions reduction combined with permanent carbon removal. 
IEA: The Energy watchdog assesses which critical energy technologies are on track under IEA's Sustainable Development Scenario - disclaimer only 6 (Solar PV, Bioenergy, EVs, Rail, Lighting, Data centers) out of the 46 are "on track".
Recharge: Engie and Fiat-Chrysler join forces to build the world's largest vehicle-to-grid (V2G) project, using electric vehicles as energy storage to balance the Italian electricity grid. 
Politico: House Democrats are ratcheting up the pressure to include financial help for the clean energy sector in upcoming pandemic-related stimulus bills.
2035 Report: A new study by Berkeley's Public Policy school and GridLab found that it will be feasible to power the US with 90% clean electricity by 2035 due to plummeting renewable energy costs. Brad Plumer, a reporter at NYT Climate, summarizes the key findings in this thread. 
---
Pop-up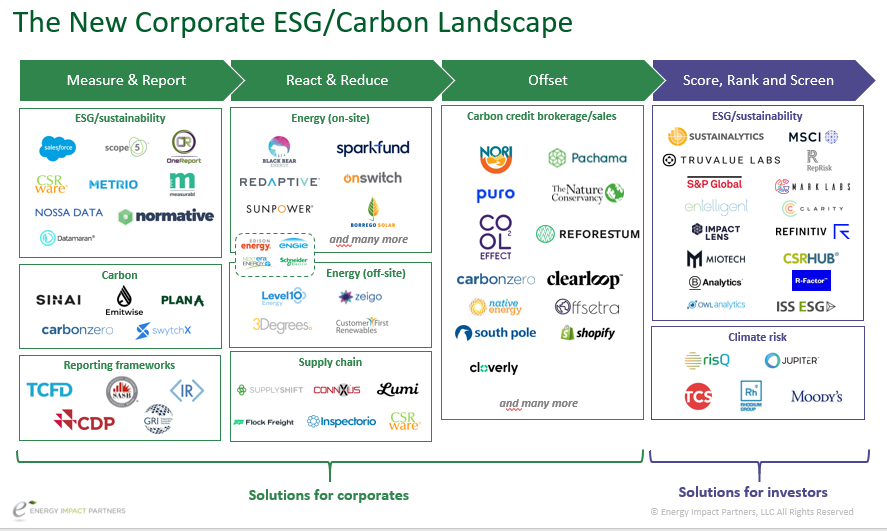 Twitter: Check out Shayle Kann's corporate/ ESG Carbon landscape (as seen above). 
Washington Post: Read the story of how the Empire State Building was remade into a model of sustainability (the elevators generate energy when they move, all lights are efficient LEDs), and has already reduced 40% of carbon emissions.
Bloomberg: Read this profile on Lucas Joppa, Microsoft's Chief Environmental Officer and frontman behind Microsoft's carbon negative commitment.
NYTimes: Celebrate World Oceans Day this past Monday (June 8) by checking out some of the NYT's best ocean reads. Ayana Elizabeth Johnson, featured in last week's issue, talks about why saving the oceans is as vital as protecting rainforests. 
Gizmodo: Disconnecting the concept of pollution from racism is irresponsible. "Polluting industries don't wind up in Black communities by accident. Neither do police. It's all by design."
[Event] The Rockefeller Foundation & EAT: Join these organizations for a discussion on Wednesday, June 24 at 9 a.m. ET about how to create a more regenerative, equitable, and healthy food system. Register here. 
[Event] Upcycling: Turning Food Waste into Food Products: Tune in on June 16th from 5-6pm PT to listen to Caroline Cotto (COO at Renewal Mill, Upcycled Food Association) discuss how Upcycled food products fight climate change.
---
Jobs
---
Feel free to send us new ideas, recent fundings, or general curiosities. Have a great week ahead!