Discover more from Climate Tech VC
The leading resource on climate and innovation.
Over 37,000 subscribers
🌍 Applying the exponential curve to COVID and climate change #2
Plus, spotlight on Jason Jacobs, Creator of the MCJ podcast
Happy Sunday! In this week's issue, we're covering the exponential curve of coronavirus and climate change, weekly Climate Tech investments and news, and Jason Jacobs (creator of My Climate Journey podcast).
---
The Exponential Curve applied to Coronavirus and Climate Change
It's an understatement to say we're living in strange times. In a matter of weeks, we've had to transition to a completely no-contact, remote world in the hope of flattening the curve. For many of us, this is the first time we've dealt with a public health disaster of this global scale, forcing us to recognize just how vulnerable our human civilization is against disease outbreaks or natural disasters.
In a Politico article, Wharton professor Howard Kunreuther and colleague Paul Slovic outline how the exponential curve of coronavirus infection parallels the destructive exponential growth processes (accelerating sea level rise, pandemic outbreaks, wildfires, droughts, heat waves) associated with global climate change. Similar to how the initial number of cases in China gave little concern, scientific warnings on dangerous levels of carbon emissions are still being overlooked in favor of short-term profits. Now we are going through the dramatic lengths of social distancing and slowing our global economy to flatten the curve. We must take away from the COVID-19 pandemic a renewed sense of urgency to mitigate climate change and prevent future catastrophes. Kunreuther recognizes this outbreak as a call to action:
Taking a lesson from our flat-footed response to the coronavirus pandemic, we can no longer delay aggressive actions to halt and reverse what otherwise will be inevitable pandemic-like crises arising from climate change
Fortunately, much-needed climate innovation is alive and buzzing. Despite the challenges of the disaster we face today, entrepreneurs are pushing to tackle critical climate issues. This week, Google announced 11 startups to participate in the inaugural Google for Startups Accelerator on the Sustainable Development Goals (SDGs), including Climate Tech startups such as Apic.ai (saving bees with artificial intelligence), Cervest.earth (predicting risks and effects of climate volatility), Ellipsis.earth (using drones to identify plastic pollution), Everimpact (monitoring air quality and carbon emissions in cities), Ororatech (real-time monitoring of wildfires), and Solar Freeze (mobile cold storage units powered by renewable energy for smallholder farmers). As entrepreneurs and investors enter this space, we will hopefully be able to flatten climate change's exponential curve.
---
Deals of the Week (4/5-4/12)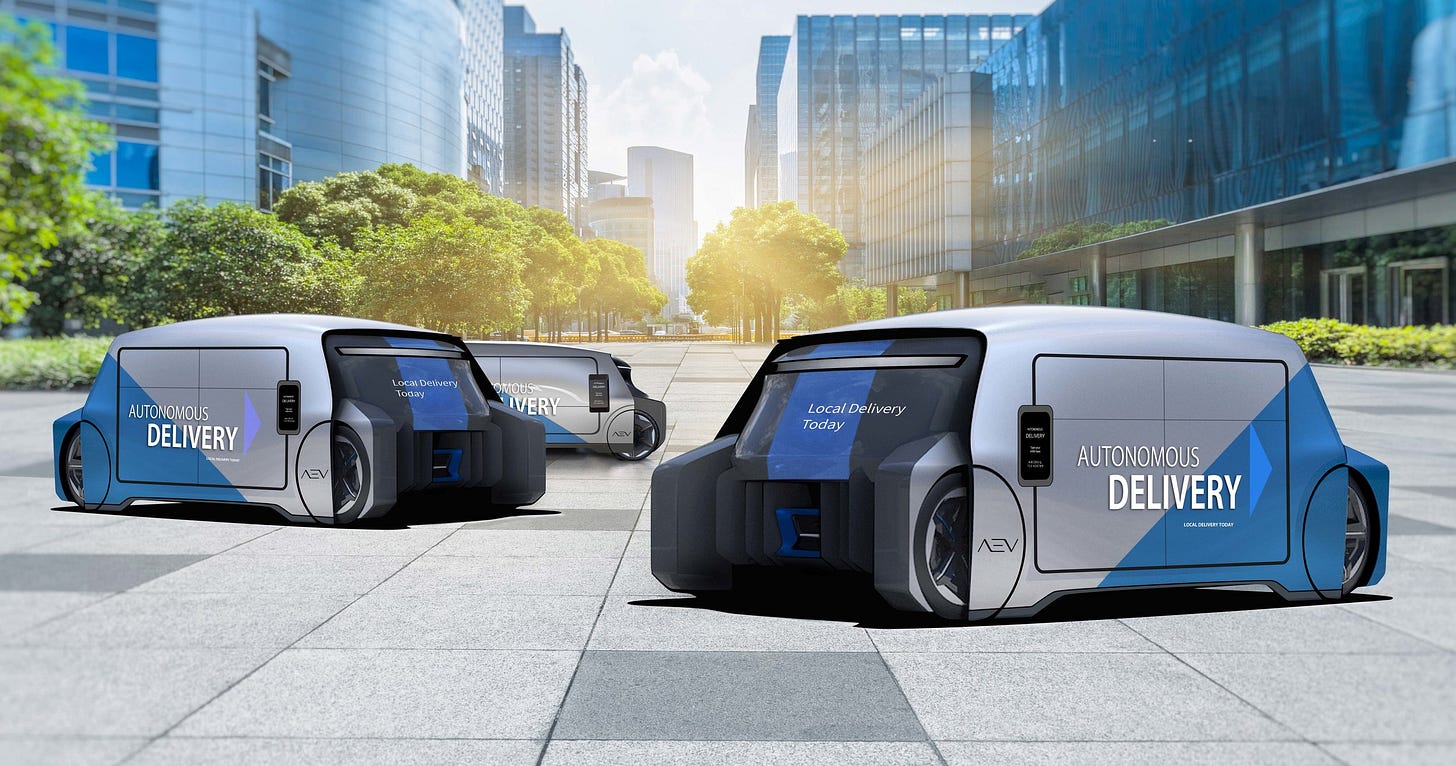 AEV Robotic's autonomous delivery vehicles (AEV Robotics photo)
🚲 Zhangfei Chuxing, a Chinese electric bicycle charging startup, raised $28m in new funding. The company provides 24-hour lithium battery-powered bicycle rental and charging services, and has built more than 150 charging stations across central and eastern China.
🌾 Pure Harvest Smart Farms, a startup developing technology-enhanced greenhouses across the Middle East, raised $20m in Series A funding led by Wafra, Kuwait's national investment company. The raise is part of a $100m multi-stage investment commitment by Wafra and will be used to continue the development of local agricultural facilities cultivating pesticide-free fruits and vegetables.
⚙️ Rise Robotics, a Somerville, Massachusetts-based startup focused on electrifying heavy machinery, raised $3m in funding from The Engine, a venture fund spun out of MIT. Their technology enables the shift to electric systems in heavy machines, which currently rely on hydraulic systems powered by diesel that produce ~55m tons of CO2 annually in the US. The funding will support Rise Robotics' work to electrify the machinery of a leading forklift manufacturer.
🏙️ ClimateView, a Stockholm, Sweden-based company designing a software tool to help cities reach their climate goals, raised $2.5m in Seed funding from Norrsken Foundation, Nordic Makers, Max Ventures, and GGV Capital. Through ClimateView's software, cities can assemble their climate data (emissions, urban planning and climate initiatives), set targets, and execute climate transition goals.
🚗 AEV Robotics, an Australian modular autonomous electric vehicle maker, raised $2.5m in funding from Investible. The vehicle starts with an electric robotic base which can be fitted with various pods with functions ranging from on-demand ridesharing and food delivery to industrial logistics.
⚡ Amperon, a New York-based smart meter platform, raised $2m in Seed funding from SK Ventures, Notation Capital, Blackhorn Ventures, v1.vc, Powerhouse, Intelis Capital, and Climate Capital. The company provides energy load forecasting and electricity grid analytics to energy suppliers and utilities.
---
In the Spotlight: Jason Jacobs
This past week, I interviewed Jason Jacobs, the creator of My Climate Journey, about his path to creating a podcast for those seeking to better understand climate change. He features people in the thick of tackling this problem, including individuals ranging from Pat Brown (CEO & founder of Impossible Foods) to Matt Eggers (investor at Breakthrough Energy Ventures). He previously founded Runkeeper, one of the largest fitness apps and communities, which eventually sold to ASICS in 2016. I've personally been very inspired to dig deeper into the issue of climate change through following Jason's climate journey, so I encourage you to check out his podcast here. Make sure to read the full interview on the Climate Tech VC website.
Can you give a brief description of your background and your path to starting the My Climate Journey podcast? 
I spent my whole career in the tech startup world, mostly in enterprise software. Runkeeper is the first company I started, and also the first one I worked on where the product was solving a problem in an area I was deeply passionate about (fitness). Once Runkeeper was acquired, I realized how much luck and privilege went into that and felt a duty to work on something important for the world, and I couldn't think of a problem more important than climate change.
It's been almost a year since your first episode. How has your climate journey and understanding of climate change evolved? Are there specific verticals or fields within the climate issue that you've personally become more interested in?
I am most interested in looking at the big picture and systems nature of the problem and figuring out how to unclog the arteries of the system to get it functioning better. I am not deep in any one specific area, though I do have a natural bent towards innovation, as it is where I've spent my whole career and what I love doing. In terms of my understanding, it is a super hard and nuanced problem, but I am currently of the mind that it takes a village. Whether it's big things, small things, innovation things, policy things, activism things, etc, the most important thing we can do to accelerate the transition is to get more people to take the red pill, and come to understand the nature and importance of addressing the problem.
You've seen tremendous success building up a community sharing your interest in climate solutions. How does the MCJ podcast now compare to your initial expectations and what are the next steps for you and MCJ going forwards?
I feel in a way like Forrest Gump, I just went out on my journey without meaning to build community explicitly, but this amazing community has just kind of naturally coalesced around these efforts. There happened to be a lot of other people like me heading out on their own climate journeys at a similar time, and by doing mine publicly, it enabled them to converge and find each other. 
The most important asset of MCJ is the community. They tend to share 4 key characteristics: determination, ambition, optimism, and collaborative spirit. My goal with MCJ is to keep growing the community, keep growing its engagement levels, and providing more tools/ resources over time to help the community be most effective in the climate fight, while finding a business model that enables me to feed my family and build a small team, so I can keep doing this for a long time while having an increasingly larger impact on addressing the problem.
---
In the News
---
Check out:
Zero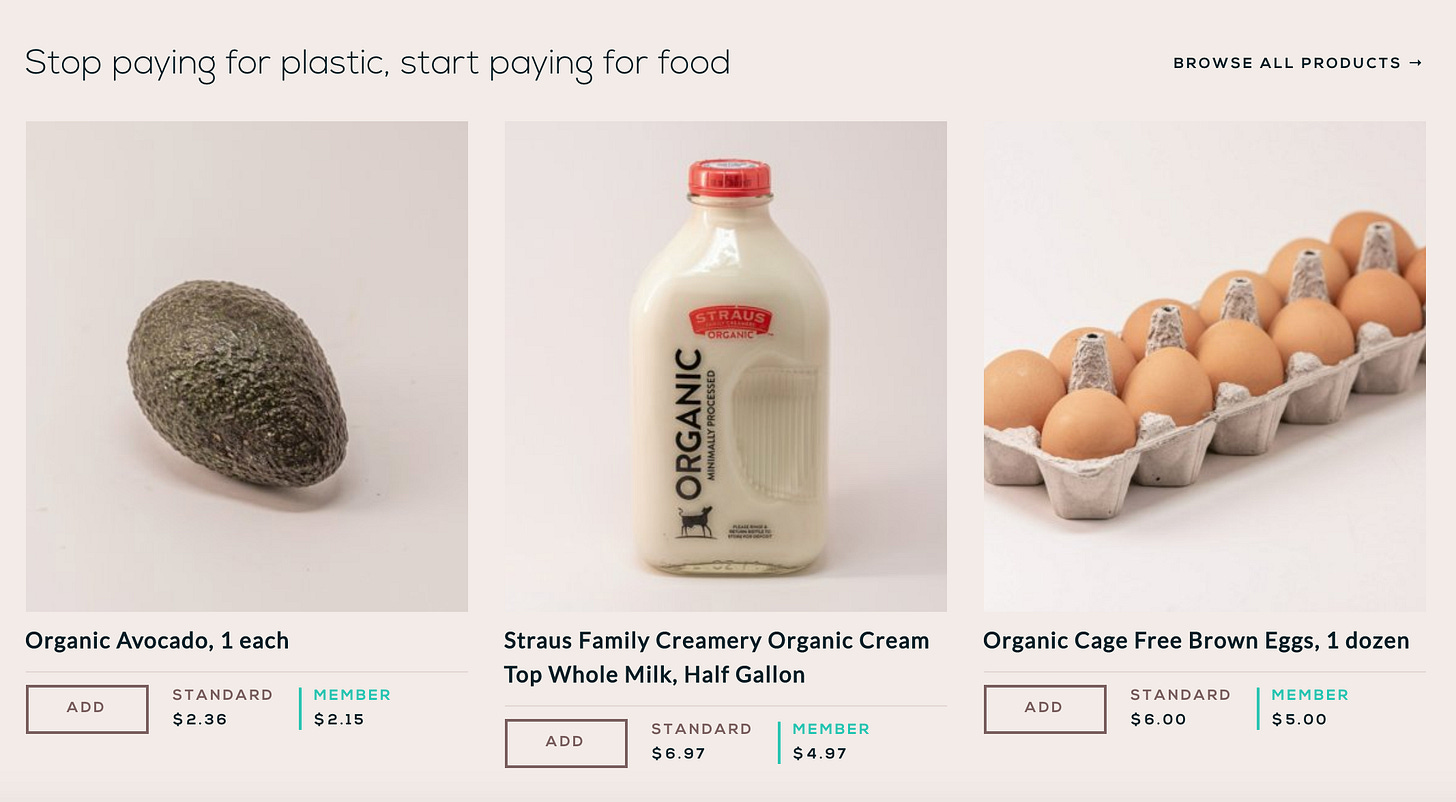 Tired of waiting on one hour lines for groceries? Zero is a single-use plastic-free grocery delivery subscription service. For $25/ month you can get the same brands cheaper than any other store, without the middle men, plastic, or delivery fees. Use the below instructions to get 1 month free:
1. Go to Zero (zeroshop.co) and sign up. You can sign up here.
2. When you create and account and take a subscription, use code CLIMATETECH to get one month free.
---
Climate-friendly tip
Run out of face masks? The CDC released directions for repurposing old clothes into DIY cloth face masks. Learn how to make your own here.
Have your own Climate-friendly tips? Send them my way!
---
That's it for this week. As always, please email me if you have any further ideas for the newsletter or just want to chat!