🌏 The rise of climate reporting tools #3
Plus, spotlight on Cassie Bowe, Investor at Energy Impact Partners
Happy Sunday! Lots of deals this week with a new look into climate policy visualization software and an interview with Cassie Bowe from Energy Impact Partners where she shares how utilities are capitalizing on clean energy trends.
---
The Rise of Climate Visualization and Reporting Tools
In the time of COVID-19, we've become used to seeing data visualizations of the virus's expected course tied with urges to do our part in "flattening the curve". That same rise of interest in data visualization and reporting tools is also being applied towards another global threat – climate change. Within the past month, ClimateView, The Climate Service, and SINAI Technologies have raised capital to develop software tools for collecting and managing climate data.
As 2020 marks the crucial year for nations under the Paris Climate Accord to announce their climate plans, ClimateView aims to develop a toolkit for cities to organize and execute their climate transition. Environmental policy making has historically been hampered by planning-intensive processes lacking data visualization tools and projections. ClimateView's software avoids "reinventing the wheel" by compiling development, emissions, and urban planning data to enable the sharing of best practices and benchmarking among cities around the world.
While ClimateView focuses on cities, other startups are designing climate accounting tools targeted towards corporations. The Climate Service bases its Climanomics® risk analytics system on the framework developed by the Task Force on Climate-Related Financial Disclosures. Similarly, SINAI Technologies helps companies understand their emissions by aggregating different reporting and data related to emissions in an accessible, easy-to-monitor format. Founder Maria Fujihara describes the service as "kind of like doing financial analysis, but doing the environmental analysis in addition."
Comprehensive climate visualization and reporting is key to both public and private policy emissions reduction efforts in an era of materializing climate effects. The startups funded this month aim to address glaring gaps in climate transition planning: easy access to accurate, global climate data, best practices to inform future courses of action, and benchmarks against which to track progress and compare globally.
---
Deals of the Week (4/12-4/18)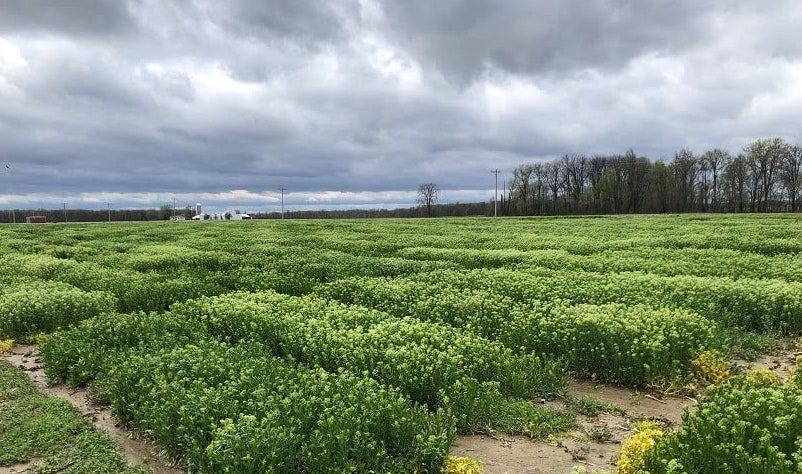 Southern field planted with CroverCress's modified pennycress low carbon cash cover crop (CoverCress Inc. photo)
💡 Juganu, an Israeli-based smart city lighting solutions company, raised $18m from Comcast Ventures, Viola Growth, and Amdocs. The company brings together smart lighting, advance connectivity, and edge processing technologies to maximize energy efficiency and lighting stability. The funding will be used to expand to the world's major cities, communities, retail chains, indoor farms, campuses and more.
💸 OpenInvest, a San Francisco-based ESG investing platform, raised $10.5m in Series A funding from QED Investors, SystemIQ, Resolute, and ABN AMRO Ventures. The tech-enabled asset manager uses Dynamic Customer Indexing technology to build impact-oriented portfolios.
💨 Kairos Aerospace, a Mountain View-based provider of methane emissions aerial monitoring, raised $9m in Series C funding from OGCI Climate Investments, John Crane, and Energy Innovation Capital. Kairos conducts aerial scans to identify the largest methane leaks, which are significant contributors of greenhouse gas emissions. In 2019, the company surveyed the Permian Basin in the largest aerial survey of methane emissions every completed.
🌾 Crop Enhancement, a Cambridge, Massachusetts-based sustainable agrochemical startup enhancing crop yields, raised $8m in Series B funding from Spruce Capital, 1955 Capital, Phoenix Venture Partners, Cavallo Ventures, Davinia Investments, and Alexandria Ventures. The company's first product CropCoat® can be sprayed to protect plant surfaces and improve pest resistance, decreasing the need for pesticides. The funding will support strategic partnership development with agrochemical companies and regional distributors.
🌍 Atlas AI, a Palo Alto, California-based provider of economic and agricultural insights, raised $7m in Series A funding from Airbus Ventures, Rockefeller Foundation, and Micron Technology. By integrating satellite imagery with AI, Atlas AI delivers high-resolution datasets on agricultural productivity, infrastructure, markets, and economic well-being across sub-Saharan Africa and South Asia.
🌾 CoverCress, a St. Louis, Missouri-based cash cover crop developer, raised $5m from Fulcrum Global Capital, Prelude Ventures, Leaps by Bayer, and Prolog Ventures. CoverCress produces a low carbon intensity crop between growing seasons to help replenish minerals in the soil and prevent runoff. The harvested crop can be processed into cooking oil, low carbon feedstock for renewable biofuel, and animal feed.
🌎 The Climate Service, a Durham, North Carolina-based provider of climate risk analytics, raised $3.8m in Series A funding from Persei Venture, Synovia Capital, and the Association of International Certified Professional Accountants. The Climate Service quantifies climate risk in financial terms aligned with the Task Force on Climate-Related Disclosures (TCFD).
⚡ Electriq Power, a San Leandro, California-based residential home energy storage maker, raised $3m in Series A funding from various angel investors. The funding will go towards expanding operations and developing new features for its PowerPod residential battery system.
---
In the Spotlight: Cassie Bowe
This past week we interviewed Cassie Bowe, Vice President at Energy Impact Partners (EIP), an investment fund partnering with companies shaping the energy landscape of the future. Prior to joining EIP, Cassie worked for 5 years at SunPower, one of the largest global solar companies, in policy and strategy. At SunPower she was responsible for global market analysis, legal and regulatory assessment, and new country entry. Ms. Bowe holds an MBA from the Stanford Graduate School of Business, a BA in Economics from Harvard University, and was selected for Forbes 30 Under 30 in Energy (2018).
Can you give a description of your background and how you became interested in energy?
Since the beginning of college, I've wanted to go into energy. At that time, I was a wide-eyed 19 year old wanting to do something good for the climate, but didn't know much about renewables or electricity. As I learned more, I realized that now is the most interesting time in the energy industry since electricity was first created. I interned at a few solar companies in college and went to SunPower full-time for 5 years. While there, I focused on how policy and strategy was changing and what that meant for business. I knew that I didn't want to do policy my whole career, so I went to Stanford. I thought I'd go to a startup, and worked at 3 different energy tech startups, but decided the financing side is as crucial as the technology and policy side. Since I'd already done policy at SunPower and focused on tech at GSB, I decided to get the third stool covered learning about finance, so I went to Energy Impact Partners.
How does Energy Impact Partners's utility partnership model differentiate the firm from other cleantech investment funds?
We've had two funds so far, with the first (over $500 million) completely allocated, and now investing out of the second fund ($750 million). 80% of the capital comes from utilities and a mix of financial and strategic investors financially motivated in decision making. The reason utilities invest in us is to gain strategic insight into the market and how to work with emerging companies, as well as develop potential revenue channels. On the other side, our portfolio companies have taken us on to gain traction with utilities, as working with a utility is slower than what the typical startup cycle looks like. We have 20 different utilities and investors in our 2nd fund and partner with over 70 different operating companies, which makes it a lot easier to prioritize which teams to work with. As a result, utility investors have done over $200 million in commercial bookings with our portfolio.
How are renewables and energy decentralization trends shifting the way utilities are thinking about their businesses?
The world has changed a lot since I first got into solar. When I was working on solar policy, utilities and the solar industry were on different sides of the argument for distributed generation. That's completely changed. For utilities now, distributed generation is a fact of life and something they're excited about. We poll utilities every 6 months, and distributed generation, solar, wind, energy storage, and electric vehicles are all big parts of their priorities. To me it's not a question of where they stand on this; they're more forward leaning than anybody in terms of how they think about that future generation. One of the biggest pieces of evidence of this is that EIP as a fund even exists, that you can pull a huge group of utilities together and invest for a second fund. It's a testament to how the world has changed - this wouldn't have happened 10 years ago.
Continue reading the full interview here
---
In the News
---
Endcap
Tune in to Earth Day Live, from April 22 to April 24, to celebrate the 50th anniversary of Earth Day. The livestream will feature activists, performers, thought leaders and artists such as Al Gore, Alexandria Ocasio-Cortez, Aloe Blacc, Bill McKibben, Chelsea Handler, Marc Ruffalo, Secretary John Kerry and more.
Check out other Earth Day livestream events here:
Climatestream: attend online climate events streaming from around the world
Earthday.org: find a digital Earth Day event on the official Earth Day website
The Energy Gang/ The Interchange: listen in live to these popular energy podcasts on April 22nd here
And if you're celebrating April 22nd with back-to-back video conference calls, take your pick from these Earth Day Zoom backgrounds from Joro. The Meekats are our personal favorite.
---
Feel free to send us new ideas, recent fundings, or general curiosities. Have a great week ahead!