Discover more from Climate Tech VC
The leading resource on climate and innovation.
Over 37,000 subscribers
🌎 Harvard's endowment cuts carbs #4
Plus, digging deep into new dirt frontiers
Hey folks, this is Sophie, I'm taking over the Climate Tech newsletter from Kim while she juggles more-than-full time banking life. 
A bit about me - I'm a longtime practitioner at the nexus of business and sustainability; first from the perspective of state and global policy, then at a major endowment, followed by a few years decking at Bain & Co., then founding an agtech venture (Kula Bio, more notes below).
I'm now investing in carbon offsets for climate-forward LPs and consulting on a mix of interesting strategy projects (and writing this newsletter!) It's been a rewarding ride, as the sustainable investing field has expanded to include more perspectives and business-first solutions. 
In this edition, we discuss sustainable fertilizers, approaches to carbon neutral endowments, and of course new climate tech deals. Thanks for joining! 
---
Harvard's endowment cuts carbs 
This week, Harvard University made a commitment that its $41B endowment would achieve greenhouse gas neutrality by 2050.
What does this mean?
Why does this matter?
What is likely to happen?
---
Deals of the week (4/19-4/25)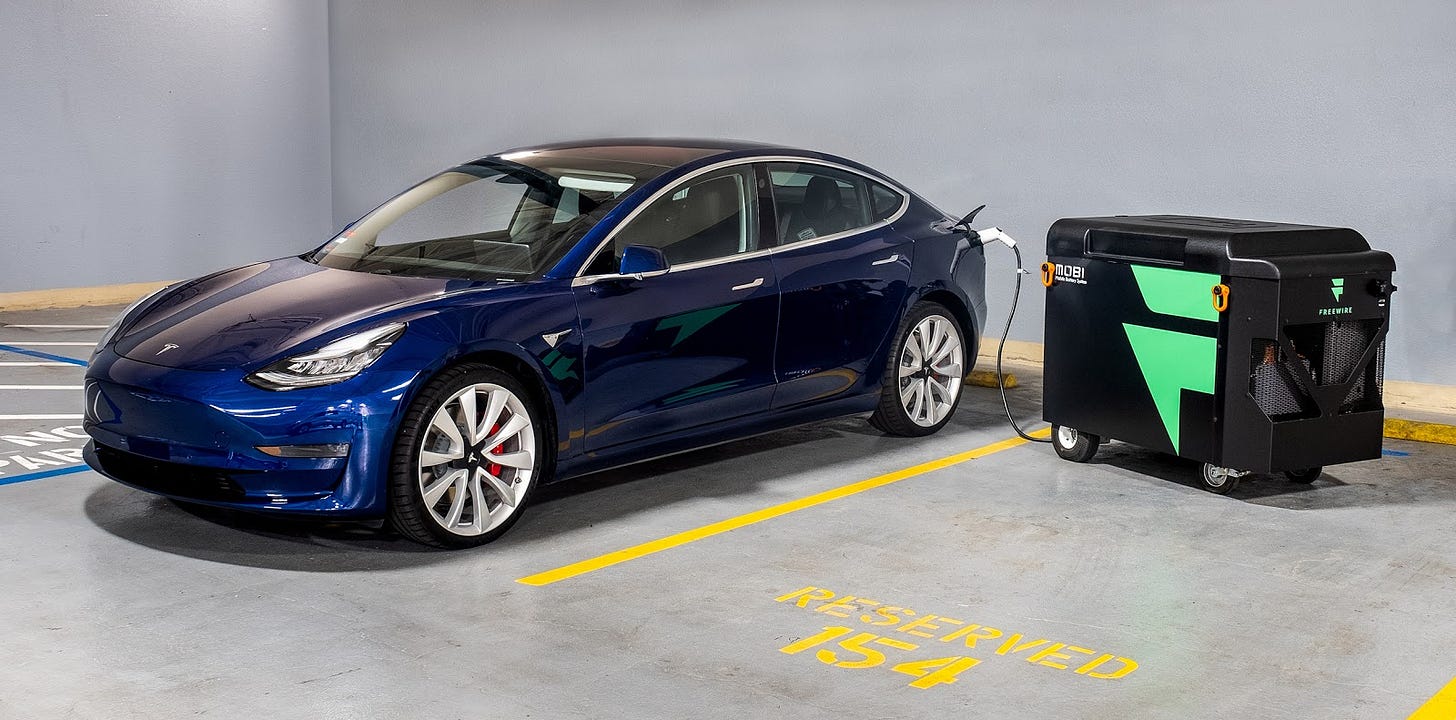 Mobi EV charger is a mobile power solution that can be deployed anywhere (

FreeWire Tech

photo)
🔋 FreeWire Technologies, a San Leandro, California-based maker of smart battery systems for EV charging and distributed power, raised $25m in Series B funding from BP Ventures, ABB Technology Ventures, and Energy Innovation Capital. The funding will support the commercialization of FreeWire's ultrafast electric vehicle charging technologies.
🌱 Laird Superfood, an Oregon-based creator of plant-based superfood products, raised $10m from Danone Manifesto Ventures. The company focuses on healthy, environmentally-conscious products such as superfood creamers, coconut water, and coffee designed to give you fuel throughout the day. 
🧪 EnginZyme, a cell-free synthetic biology company, raised €6.4m led by Sofinnova Partners. The company uses biology and enzyme catalysts (similar to the fermentation process) to simplify chemical production processes such as developing greener alternatives to plastics. 
💩 Biobot Analytics, a Somerville, Massachusetts-based technology company deploying wastewater monitoring equipment, raised $4.2m from MIT's The Engine, AmFam Institute Impact Fund, Y Combinator, and DCVC. The company analyzes sewage to map population health data and has already deployed its platform to track the spread of COVID-19. 
🌬️ Shoreline, a Norway-based wind SaaS simulation and workflow management platform, raised $4m from The Ingenious Group, Blue Bear Capital, and Alliance Venture. The company's software helps optimize resource utilization for wind energy power plants. 
🚂 Clearflame Engines, an Illinois-based developer of clean combustion engine technology, raised $3m with Clean Energy Ventures leading the round. The company targets heavy-duty transit in need of sustainable cost-effective alternatives to diesel fuel by modifying engines to run on cleaner burning fuels. 
⚡ ampUp, a Cupertino, California-based electric vehicle P2P charging network, raised an undisclosed amount from leading automakers SAIC Motor and Hyundai Motor with participation from Forest Ventures and other investors. The company is forming the "Airbnb for electric-vehicle chargers" by operating a mobile app that connects a network of EV chargers and drivers. 
---
Feature: deep dive into new dirt frontiers 
Back in the 1910's, two German scientists named Haber and Bosch developed a process to manufacture ammonia. As a result, they fed the world, fueled modern explosive warfare, and won two Nobel prizes for creating a fertilizer that was cheap, plentiful, and effective (and coincidentally replaced the previous best alternative, batshit). Today, we produce nitrogen fertilizers like ammonia in city-size factories powered by fossil fuels that contribute ~2% of global greenhouse emissions. 60% of fertilizers don't make it to the plant, running off into waterways, producing algal blooms, and poisoning drinking water - unless first volatilized into noxious gases. 
How can we sustainably replace a $150B total addressable fertilizer market that is critical to global food supply? Nitrogen is a building block of life and all plants require it to grow - the precarious economics of Big Ag make fossil fueled fertilizers a necessity for scale, and organic alternatives (e.g. manure, fishmeal, compost) are expensive, local, and pathogenic. For a solution to work, we must be able to produce more food to satisfy world population growth while also replacing the energy equation that otherwise perpetuates an oil addiction undergirding our food. 
There's three primary approaches to reshaping this dynamic: 1) more effective fossil-fuel based fertilizers (e.g. clean synthetic ammonia), 2) improved application (e.g. more effective uptake and controls to reduce runoff) and 3) nutrient-light agriculture (e.g. less corn, more legumes). Across these approaches, the common thread is that the paradigm of synthetic fertilizers reigns supreme - there is no ready substitute, only slightly less bad options.
Today, only some 5% of total agricultural production costs for individual farmers are fertilizers yet these represent a lion's share of all greenhouse gas emissions caused by farming. This is a negative externality globally, though individually a minor concern for those deciding which fertilizers to grow with and whose options have previously been limited. 
However, there are a handful of contenders that are redefining the equation of fertilizer to food output, trying to both invert the equation while acknowledging Haber and Bosch's self-evident triumph of man over soil:
The broader context remains that farmers are fundamentally risk-averse. Consumers mostly disregard their food's production process for price, convenience, and selection. Carbon pricing may change the fundamental unit economics, which would increase organic fertilizers' ability to stay par (if not compete) with current structures. Accounting for nutrient run-off (as in California) would also tax the less-efficient approaches. Ultimately, the drive towards a highly potent, low run-off solution would open up an opportunity for existing agricultural interests to retain their edge while creating fertile ground (ha!) for more innovations. 
Editor's note - I retain equity in and remain an advisor to Kula Bio, but sharing the above overview given all the dynamism (and my excitement for!) the space. 
---
In the News 
---
Pop up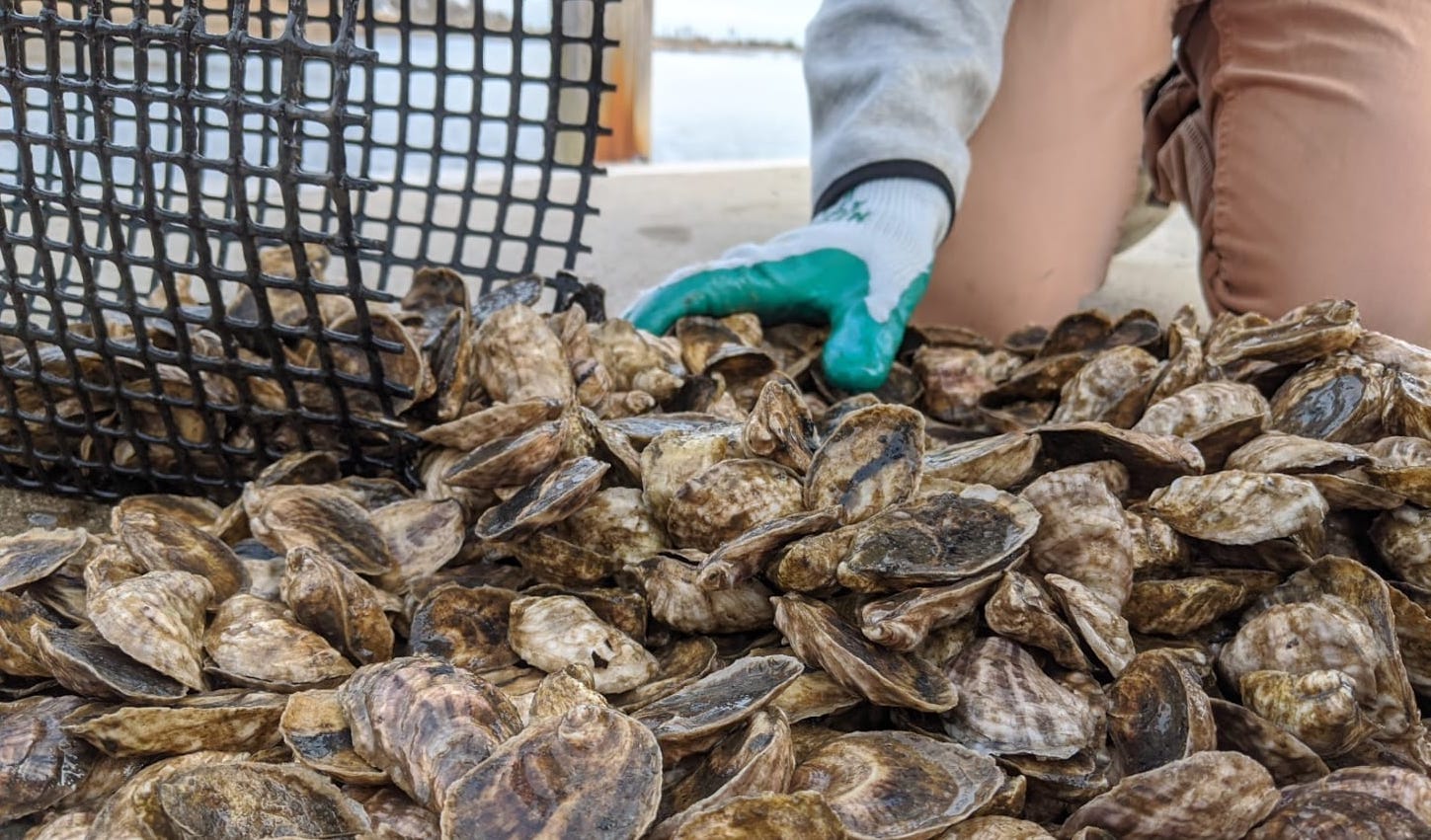 How did you celebrate Earth Day? We got our hands dirty with some spring cleaning of homegrown oysters. They'll be ready for a summer snack soon, and in the meantime have provided essential purification benefits to the Rhode Island estuary where they're being farmed. Follow along digitally as the Billion Oyster Project brings back oyster reefs to none other than New York Harbor. 
DC Environmental Film Festival: Continue celebrating Earth Day by binge-watching environmentally themed films selected by the largest green film festival in the world.
NYT climate change books: Take advantage of your extra free time and pick up a book on climate change (from the 21 on this list)
DeepGreen: Check out this impact report from DeepGreen, a sustainable mining company which brings science fiction to life by harvesting polymetallic nodules off the seafloor to make carbon neutral EV batteries. Great example of radical transparency from a company using sustainability to disrupt an otherwise dirty industry.
Shopify offset: Shopify has announced the "Offset" app which enables Shopify merchants to minimize and monitor their carbon footprint 
---
Feel free to send us new ideas, recent fundings, or general curiosities. Have a great week ahead!