Discover more from Climate Tech VC
The leading resource on climate and innovation.
Over 37,000 subscribers
🌏 The importance of catalytic capital (featuring Prime Impact Fund) #12
Plus, Lyft pledges to go 100% electric
Happy Monday! 
Lyft shares the ride toward 100% electric vehicles with an anticipated (albeit, future) set of policy goals. In the long term, this paves the way for big transportation players to help usher in carbon neutrality. In the short term, this means rolling back some prior positive progress in carbon offsets right as economies chug back into drive. 
We also feature a range of new climate deals and some new funds, along with an in-depth dive into catalytic capital featuring an interview with Prime Coalition's newly launched Prime Impact Fund.
Thanks for reading!
Not a subscriber yet? Sign up here! 
---
Lyft pledges to go 100% electric 

Lyft is collaborating with the Environmental Defense Fund to shift 100% of the vehicles on its platform to electric by 2030. This includes cars in its rental partner program for rideshare drivers, consumer rental program, autonomous vehicle program, and drivers' personal cars. Read the press release.
What does this mean? 
While Lyft can source EVs for its various programs, the vast majority of vehicles on its platform are, of course, drivers' cars. The most challenging part of this pledge lies in how Lyft will shift vehicles external from its own fleet to electric.

Greentech Media reports that Lyft will connect drivers to existing EV incentive programs, advocate for new incentive policies, negotiate with auto manufacturers to reduce EV prices, and support more ubiquitous EV charging infrastructure.
Why does this matter? 
Transportation is the single largest source of US GHG emissions and ridesharing vehicles produce ~50% more emissions per mile vs personal passenger vehicles. There's also still a long way to go before the full shift to electric (EV's accounted for 2.6% of global car sales in 2019.) Lyft's pledge strengthens the ridesharing platform as a leader in decarbonizing the transportation industry. 

Lyft's president John Zimmer notes, "if other rideshare and delivery companies, automakers and rental car companies make this shift, it can be the catalyst for transforming transportation as a whole." 

However, as part of the pledge, Lyft has immediately terminated its existing carbon offset program (supposedly to focus on direct decarbonization.) This cancellation of the offset announcement comes at a critical juncture when economies are reopening and ridership is expected to spike.
What is likely to happen? 
Lyft's ambitious plan relies heavily on aggressive policy changes. While Lyft has partnered with EDF, completing their pledge will require regulations and incentives at a broader governmental level. Regulatory policies are a key driver to increasing the share of electric vehicles. For example, 60% of global car sales are covered by China's New Energy Vehicle mandate, the EU's CO2 emissions standard, or a zero-emissions vehicle mandate (in select US states/Canadian provinces.) Read more about EV policies in the IEA's Global EV Outlook 2020.
---
Deals of the Week (6/15-6/21)
🔋 QuantumScape, a San Jose, CA-based solid-state battery developer, raised $200m in funding from Volkswagen. In 2018, the two companies began a joint venture to develop and scale batteries which can achieve ranges comparable to those of a combustion engine. More here.
🔋 BYD, a Chinese car and battery maker backed by Warren Buffet, raised $113m in Series A+ funding. The company is racing to produce the "CPU" of an EV so China can become self-sufficient in producing electric vehicles. TechCrunch has more here. 
🧬 GreenLight Biosciences, a Boston-based startup developing RNA-based products, raised $102m in Series D funding from Morningside Ventures, S2G Ventures, Tao Capital Partners, and Baird Capital. The funding will be used to expand RNA-based therapeutics and develop products focused on sustainable crop production. More here. 
💧 Zero Mass Water, a Scottsdale, AZ-based creator of the world's first hydropanel, raised $50m in Series C1 funding from BlackRock, Duke Energy, Breakthrough Energy Ventures, and Material Impact Fund. The hydropanels can create drinking water from sunlight and air. More here. 
🍍 Tropic Bioscience, a UK-based ag-tech company focused on tropical crops, raised $28.5m in Series B funding from Temasek, Sumitomo Corporation Europe, Genoa Ventures, and Agronomics. The startup genetically edits commercial varieties of tropical crops to enhance crop efficiency and consumer health. More here.
🛩️ DroneBase, a Los Angeles, CA-based provider of drone pilots for industrial companies, raised $7.5m from Valor Equity Partners, Union Square Ventures, and Upfront Ventures. The drones monitor renewable energy assets like wind turbines. TechCrunch has more here.
Funding News:
Copenhagen Infrastructure Partners raised $1.7bn for a new fund which intends to become the largest dedicated to renewable energy infrastructure investments. The fund is looking to invest in offshore wind, solar, biomass, waste-to-energy, transmission, and storage solutions. Bloomberg has more here.
Unilever plans to invest $1.1bn in a fund dedicated to climate change projects over the next decade and has committed to reducing all of its products to net zero greenhouse gas emissions by 2039. Bloomberg has more here. 
Pale Blue Dot, a Sweden-based climate tech fund, revealed its first close of €53m. They aim to invest in 40 pre-seed / seed companies with investments ranging from €200,000 to €2m. TechCrunch has more here.
Prime Impact Fund, a Cambridge, MA-based early-stage venture capital fund focused on breakthrough climate technologies, publicized the close of its $50m raise. The fund is an initiative of Prime Coalition, a nonprofit addressing funding gaps for climate solutions. More here.
---
The importance of early, high-risk capital for climate tech (featuring Prime Impact Fund)
What is catalytic capital?
Many climate solutions include tangible, "hard" technologies to limit or reduce carbon emissions which often bear specific risks that deter private investment. Some funders seek to help companies overcome this financing obstacle. Last week, Prime Impact Fund, an initiative of the nonprofit Prime Coalition, announced a $50m raise to "address critical funding gaps for climate solutions" and invest in "high-risk, high-reward" climate technologies. 
To understand how Prime Coalition seeks to address this funding gap, we spoke to two of its staff: Director of Partnerships Maggie Cutts and Principal of Prime Impact Fund Amy Duffuor. [The newsletter version has been edited lightly for length, so check out our website for the full feature]. 
Cutts said that the most transformational climate technology solutions tend to rely on hard tech, for which it is "inherently harder to attract capital." The reasons for these fundraising difficulties, she explained, include that hard tech typically "isn't consumer facing, has long timelines to proof points, and is more capital-intensive."
According to Cutts, Prime Impact Fund uses "catalytic capital" to support these types of technologies. Duffuor calls it "impact-first capital." She said, "We don't view investments as concessionary on return. Rather, our inherently patient and flexible capital allows us to support high risk, high reward ventures."
Why is catalytic capital important?
Catalytic capital enables climate tech companies to turn unexplored ideas into proven solutions, which are likelier to attract conventional venture capital funding.
Like other products, emerging climate tech solutions span an "innovation continuum." This phrase, as presented in a 2018 article in Stanford Social Innovation Review, encompasses three stages of product development:
Unexplored solutions in the earliest stages of research and initial development

Nascent solutions that have been researched and proven but must be scaled and made competitive through further prototyping, testing, and demonstration

Commercially viable or near-commercially viable solutions that are economically attractive to customers with minimal public support.
Each stage is likely to appeal to different sources of capital: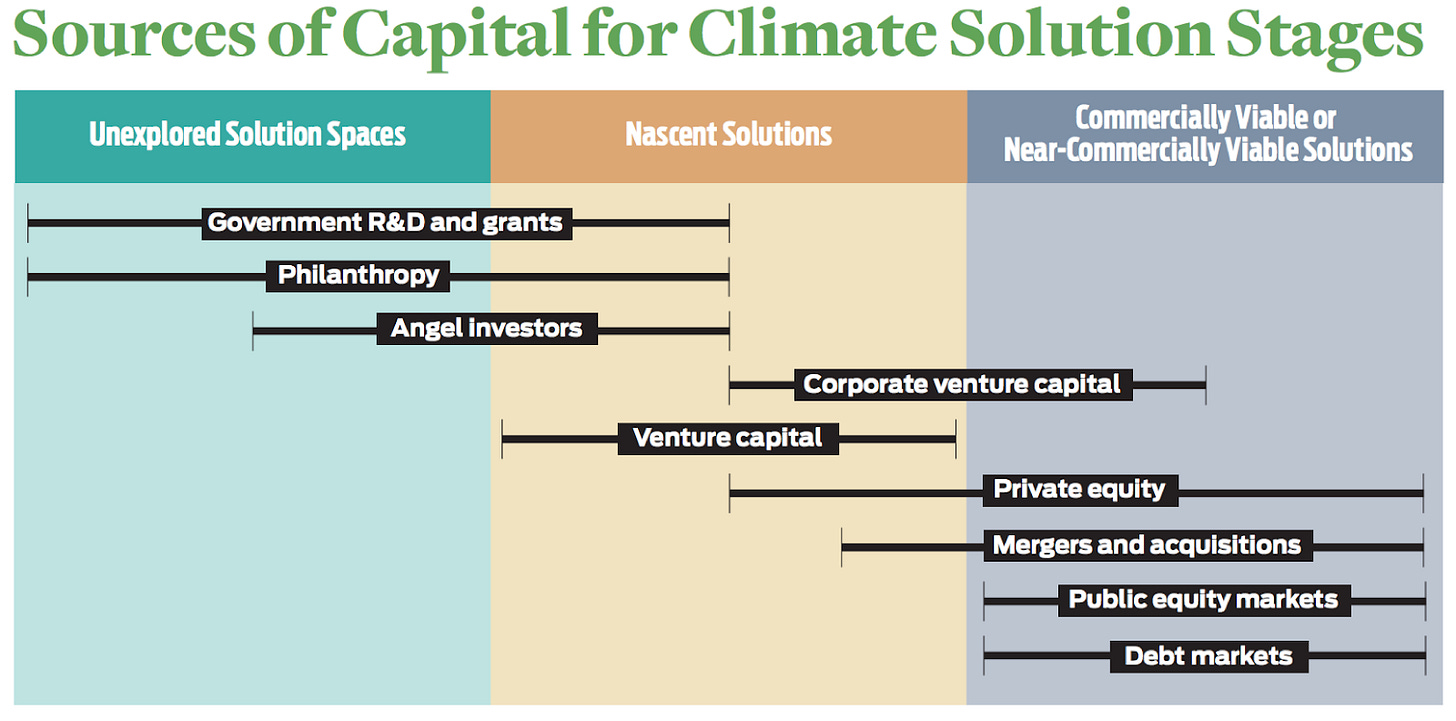 The sources of capital best suited for each stage of development (

Stanford Social Innovation Review

)
Catalytic capital, like that in Prime Impact Fund, focuses on the same stage as angel investors and philanthropies to make companies more attractive for subsequent conventional venture finance.
These early stage funders are often more risk-tolerant and patient than most VC investors. They are willing to absorb large perceived risks that VCs often avoid, such as substantial upfront capital requirements, long and uncertain product development periods, and extended timelines for investment returns.
By contrast, VC firms typically seek companies with promising – less risky – products that will offer their investments a foreseeable exit opportunity, such as an IPO or stock sale. Early stage VCs provide seed capital, while other VCs often invest to scale a company that already has market traction or a demonstrated proof-of-concept. In either case, their ultimate goal is generally to maximize returns within a specific time period. 
As profit-maximizers, VCs in the climate space tend to target solutions that are more proven and can scale within a shorter time frame. Philanthropies, on the other hand, are driven by social and environmental impact. Therefore, their catalytic capital is a better fit for riskier climate solutions with longer development timelines. Prime Impact Fund seeks to fill the capital gap for new technologies with catalytic capital to build companies that will be attractive to conventional investors down the line. 
How does Prime Impact Fund assess investments?
Prime Impact Fund is "looking for solutions that could achieve transformative climate impact," according to Duffuor.
Cutts and Duffuor described three criteria they use to evaluate an investment:
Climate impact: The solution can achieve gigaton-scale climate impact by 2050.

Additionality: The company is unlikely to attract sufficient investment capital were it not for Prime.

Follow-on Funding: The company has a pathway to follow-on commercial capital after being de-risked by Prime. 
[Note: Companies fitting this profile can apply for Prime Impact Fund financing here.]
One new company in Prime's portfolio, Clean Crop Technologies, applies High Voltage Atmospheric Cold Plasma (HVACP) technology to reduce food waste and crop loss in developed and emerging markets. Each year, toxins, pathogens, and pests lead to approximately 500 million tons of food waste between the farm and consumer, in addition to more than 400,000 deaths. Clean Crop's "hard tech" solution aims to mitigate these large-scale emissions and negative human health impacts. 
Why does this matter?
Greater availability of catalytic capital like that from Prime Impact Fund can help propel riskier climate tech by removing traditional financing barriers for hard tech companies.
In February, Jeff Bezos announced the Bezos Earth Fund, a $10bn environmentally-focused philanthropic initiative. The fund is expected to start giving grants this summer. Although the details of how this money will be spent have not been announced, Cutts views this initiative, as well as other public commitments by large asset owners, as an important signal to the world that the size and urgency of climate change is massive and requires major shifts in the way capital is currently allocated. 
Funding fresh innovation in gigaton-scale climate fields like carbon capture, sustainable agriculture, and industrial process heat will launch new pillars of the low-carbon economy, which is needed to fight the urgent, existential threat of climate change. 
---
In the News
NYTimes: To no one's surprise, emissions have surged back to pre-pandemic levels as countries reopen. (They're only 5% below the 2019 average level.)
Washington Post: ~30% of Germany's €130bn committed to the pandemic recovery will be spent on activities that cut emissions including EV subsidies and funding a clean hydrogen program.  
Greentech Media: BP expects to write down $17.5bn of oil and gas holdings (~12% of their O&G assets) due to COVID-19's demand pressure on the oil industry. The oil major will also begin integrating a new carbon price of $100 per ton by 2030 (+250% from their current price of $40). 
IEA: In response to calls from governments around the world, the IEA has produced a Sustainable Recovery Plan for actions that can be taken over the next three years. CarbonBrief is tracking the stimulus measures which have a climate impact. 
Greentown Labs: A well-known climate tech incubator (as featured in our list of accelerators / incubators), is opening a second space in Houston to accelerate the energy transition in the heart of the US oil industry. 
Bloomberg: Goldman Sachs has issued a research note for investors that claims investments in renewable energy are set to overtake those in oil and gas for the first time next year. They think clean energy, including biofuels, will be a $16tn investment opportunity between now and 2030.
UK Government: Green number plates will be introduced in the UK. This is aimed to make it easier for Electric Vehicles to be identified and benefit from policies such as cheaper parking and cost-free entry to low-emissions zones. 
---
Pop-up
The Green Program: Here's a list of 19 black business and governmental leaders who are paving the way for a diverse energy economy. 
CNBC: At least 6 of the 50 companies on CNBC's list of private organizations disrupting their industry are climate tech companies: Indigo Ag, JUST, Apeel, LanzaTech, Impossible Foods, and Ginko Bioworks.
NYTimes: The International Space Station uses sensors to stalk the movement of animals from space.
Opportunities:
IBM's Call for Code: IBM's 2020 Call for Code Global Challenge allows developers around the world to build solutions that combat COVID-19 and climate change. Register by July 31. 
The Clean Fight: A new clean energy accelerator powered by New Energy Nexus for growth-stage companies looking to scale in New York. The first cohort, Clean Buildings targets high-impact solutions to decarbonize NY buildings. Apply by July 19. 
Apollo: The Altman brothers launched a fund for moonshots. Apply by July 11th to be 1 of the first 5 companies in the fund ($3m investment at a $15m post-money valuation).
Petri Cohort II: The second cohort of the Petri accelerator is open. If you're a first-time technical entrepreneur at the intersection of biology and engineering, reach out here.
Check out our running list of accelerators here!
Events:
The Aspen Institute: On June 24 at 12 p.m. ET, join Gina McCarthy – President and CEO of the Natural Resources Defense Council – and Elliot Gerson – Executive Vice President of the Aspen Institute – for a discussion on the intersections between climate change and health.
US Cleantech Investing from Coast to Coast: Join Women in Cleantech and Sustainability and Orion Energy Partners for a Virtual Happy Hour focused on June 25 from 5-6 p.m. PT.
The Rockefeller Foundation & EAT: Join these organizations for a discussion on Wednesday, June 24 at 9 a.m. ET about how to create a more regenerative, equitable, and healthy food system. Register here. 
---
Jobs
Software Manager @Volta Charging
Strategic Ventures Senior Analyst @Midcontient Independent System Operator (MISO)
Electric Vehicle Lead Financial Analyst @Virgin Hyperloop
Software Engineer @EnergyHub
BizOps @GALY
Marketing Manager @LineVision
---
Feel free to send us new ideas, recent fundings, or general curiosities. Have a great week ahead!