Discover more from Climate Tech VC
The leading resource on climate and innovation.
Over 37,000 subscribers
🌍 Energy watchdog barks for green recovery #5
Plus, spotlight on Tom Sun, CEO of ampUp
Hey folks, happy May (wait, it's May?)! 
Wow! Thanks to all of our new readers! We're growing like wildfire (the natural, revitalizing kind), which is a positive vote for all the recent boom of climate tech. 
Our goal remains to add perspective and distill a range of views, given the loud chorus of climate chatter. 
This week had a bevy of deals, with a positive trendline despite the broader market stumbles. We caught up with the founder of ampUp whose software solution democratizes access to the largest peer-to-peer network of EV chargers, and we've boiled down some insights from IEA's annual Global Energy Review report.
Thanks for joining! 
---
Energy watchdog barks for "green recovery"
The International Energy Agency, the world's energy watchdog, has expanded its Global Energy Review coverage of energy demand and CO2 emissions to include the impact of COVID-19. 
What did it find? 
It's a no brainer that global energy demand is down, but by just how much? Countries in lockdown experienced a 25% demand decline per week, while partial lockdown peers declined 18%. TBD if economic productivity between full vs partial lockdown countries will follow a similar pattern (e.g. energy demand : GDP). 

Decreased energy demand will turn back the CO2 clock to 2010 levels when CO2 emissions were 8% lower. This drop is due to overall lower demand, but moreover by using less fossil fuels - namely, global coal demand is down 8%, oil -5%, and gas -2%. 

In a vote of confidence for resiliency and distributed generation, renewables are up 1.5%. 
Why does this matter? 
The report is hard-hitting evidence that fossil fuel demand is weakening while renewables are able to withstand the greatest energy demand collapse in 70 years. 

The coronavirus outbreak offers a rare glimpse of what happens to the planet when the world's economy is put on pause. Yet, this emissions drop is a result of unfortunate and unsustainable reasons and we should expect a rebound to previous levels as countries reopen their economies. 
What is likely to happen? 
A good crisis should never go to waste. Responsive fiscal stimulus policies should incorporate climate contingent measures to keep emissions low as energy demand rebounds. The Obama administration took similar action after the global financial crisis, such as tightening auto emissions standards while GM and Chrysler were receiving billions in federal help. 

In fact, the head of the IEA himself is calling this a "historic opportunity" to scale up deployment of clean tech like batteries and hydrogen and reduce the need for heavy emitting infrastructure. 
Be true (net zero)
Finding balance in the world of climate change is often described as "net zero," where emissions produced are offset by emissions removed from the atmosphere, buying us time to transition to a low-carbon economy. But there's a catch – those trees we've relied on to store our offset carbon aren't permanent. Indeed nature-based solutions for storing carbon are stop-gaps, not storage lockers – and to complicate the picture, permanent sequestration solutions are still nascent technologies. 
We need the market to signal demand for permanent carbon removals, to lower the price and drive technological scaling. BCG has identified those companies with the right incentives and resources that might be willing to pay for "true net zero."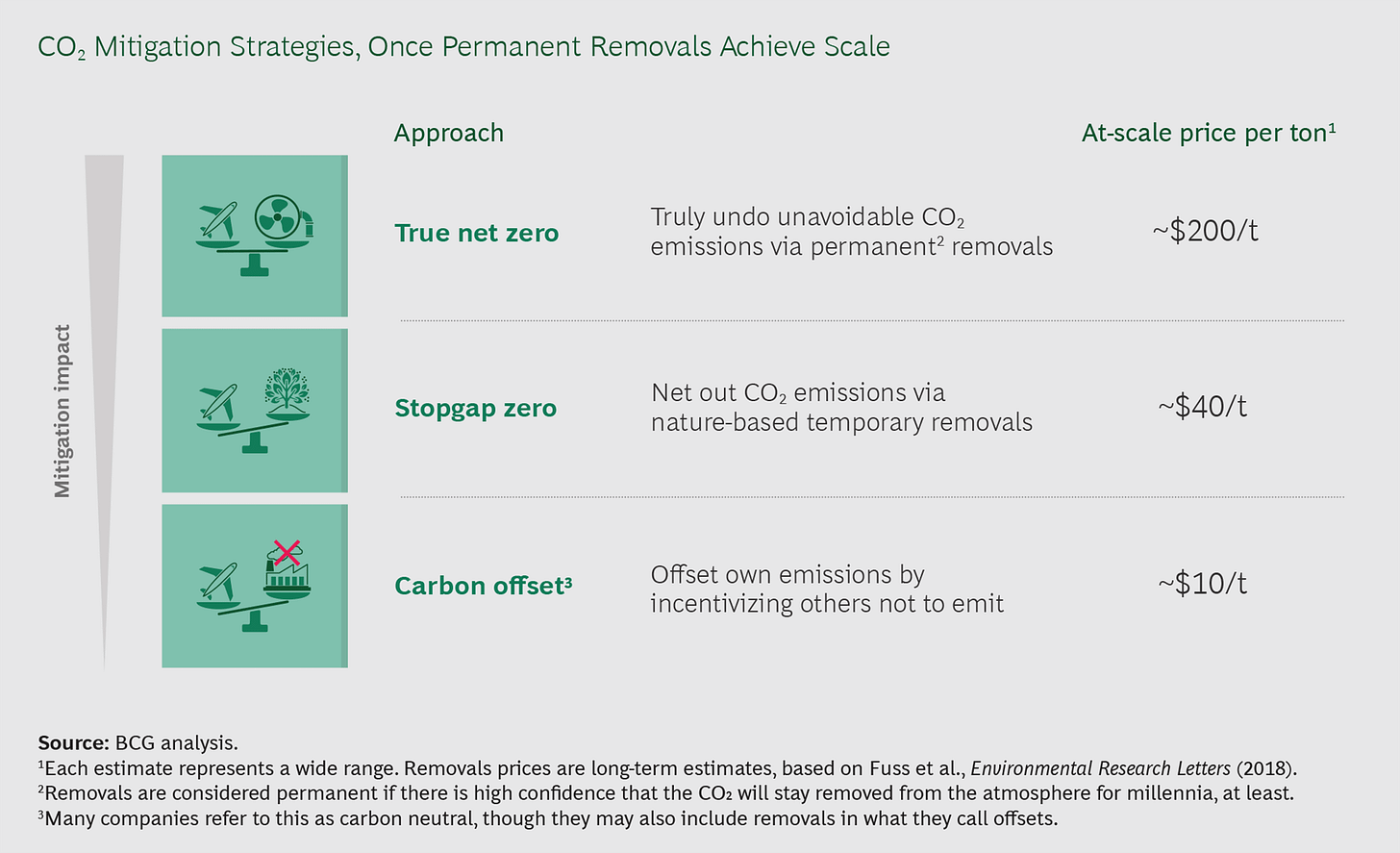 The three available CO2 mitigation strategies and their costs (

BCG

photo)
Early adopters of true net zero would have high margins and low emissions intensity (think: tech cos, consulting firms) and also rely on premium talent and brand positioning. For these companies, it's possible that paying for premium true net zero offsets (~$200/ ton vs $40 for basic offsets) would have a positive return (and/ or be a non-significant total sum). 
This trend is already starting to play out across Silicon Valley's largest tech companies response to the clean energy transition. In another study, BCG ranked the 48 biggest tech cos on their level of influence and participation, and found that there's a stark divide in performance. Some companies (like Alphabet, Apple, Applied Materials, Tesla, etc.) are going above and beyond in reducing their own carbon footprint as well as policy pushes and reporting. Yet many of their supposed peers do not.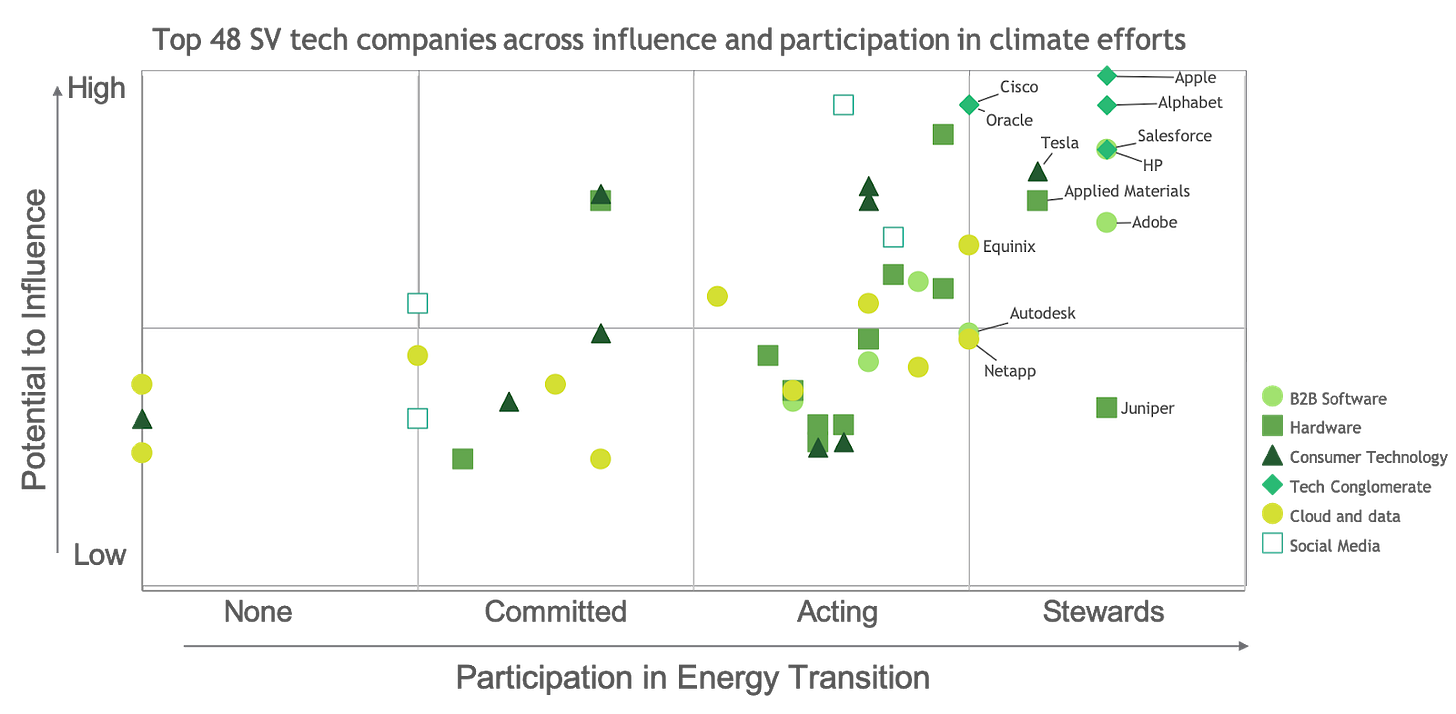 Top Silicon Valley tech co's ranking on influence and performance in clean energy efforts (

LinkedIn

photo)
What companies on this chart (and beyond Silicon Valley tech giants) are actually willing to pay for the talent and brand benefits of premium true net zero? And how do we mobilize those well-poised companies to action? 
Approaches like this of translating "do the right thing" into dollars and cents, along with a healthy dose of sunlight and peer pressure, might just tip the first domino. 
---
Deals of the week (4/26–5/2)
🚗 Nio, a public Chinese electric vehicle maker, secured a $1bn state-backed cash injection to relocate from Shanghai to Hefei. The company is looking to rival Tesla in China but faces declining EV demand as China recovers from the COVID-19 pandemic. 
🌱 Pivot Bio, a Berkeley, CA.-based developer of microbial nitrogen tech for increasing crop yields, raised $100m in Series C funding from Breakthrough Energy Ventures, Temasek, Prelude Ventures, and DCVC. Pivot uses genetically modified, nitrogen-producing microbes to decrease the need for chemical fertilizer application (check out last week's issue for a deep dive on sustainable fertilizers). 
🌱 Inari, a Cambridge, MA-based biotechnology company developing personalized, gene-edited crops to increase climate resilience, has raised $45m in debt funding from K2 HealthVentures. 
🏠 enVerid, a Westwood, MA-based developer of HVAC Load Reduction® technology which cleans a building's indoor air at a molecular level, raised $20m in Series B funding from Breakthrough Energy Ventures, Ajax Strategies, Building Ventures, and OurCrowd. 
🌱 InnovoPro, an Israel-based chickpea protein startup, raised $15m in Series B funding led by Jerusalem Venture Partners. While chickpeas naturally contain 20% protein, InnovoPro has produced a 70% chickpea protein concentrate for use in products like puddings, meat alternatives, ice cream, and vegan mayonnaise. 
⚡ AMPLY Power, a Los Angeles, CA-based electric vehicle charging startup, raised $13.2m in Series A funding from Soros Fund Management, Siemens, Congruent Ventures, PeopleFund, and Obvious Ventures. AMPLY provides Charging-as-a-Service to electric vehicle fleets through its price-per-mile-driven model. 
⛽ Vutiliti, a Salt Lake City, Utah-based smart utility monitoring company raised $11.8m in Series A funding from Constellation Technology Ventures, Cycle Capital Management, and Chevron Technology Ventures. Vutiliti has designed a LoRaWAN-enabled energy meter called HotDrop™ which produces real-time data insights to aid in reducing utilities' GHG emissions, expenses, and risks of equipment failure. 
🌬️ WindESCo, a Burlington, MA-based maker of software for wind farms, raised $10m in Series B funding led by WAVE Equity Partners, with participation from an affiliate of energy company Tenaska. The company's software uses machine learning and smart sensing to optimize the performance of wind turbines. 
🏠 BrainBox AI, a Montreal-based maker of autonomous HVAC technology, raised $8.5m from Esplanade Ventures and Desjardins Capital. The company combines machine learning and cloud computing to optimize HVAC control systems and accurately predict future power consumption.
🏨 SensorFlow, a Singapore-based hotel energy efficiency startup, raised $8.3m in Series A funding from Openspace Ventures and Gaw Capital Partners. The smart building management solution leverages wireless sensors for large-chain hotels, commercial properties, and industrial spaces to optimize their energy efficiency, productivity, and maintenance. 
🍳 Plantible Foods, an LA-based company producing a plant-based duckweed protein, raised $4.6m in Seed funding from Vectr Ventures and Lerer Hippeau. The company uses duckweed to create a whey and dairy protein replacement similar to egg whites. 
📦 Varden, an Australia-based company converting waste material from sugarcane into packaging, raised $2.2m in funding from Horizons Ventures. The company will first target creating a sustainable replacement for coffee capsules and expand its product line to medical blister packs. 
---
In the Spotlight: ampUp 
This past week we interviewed Tom Sun, who co-founded ampUp in 2018 to solve a personal problem that many other nomadic EV drivers experience: owning an electric car without a home charging setup. 
Based in Cupertino, California, the software company provides a peer–to–peer EV charging network, as well as back-end charging technology solutions for businesses and hosts of all sizes. As featured in our newsletter last week, ampUp recently raised funding from strategic investors SAIC Motor and Hyundai. Our chat has been edited lightly for length and clarity, so check out our website for the full interview and bonus insight into the current EV charging market. 
Can you describe what ampUp does and how it differs from other electric vehicle charging startups? 
ampUp launched as the "Airbnb for electric vehicle charging". We started with the P2P model after running a market survey which found that 90% of EV owners were disappointed with public charging infrastructure. We've now developed the largest P2P EV charging network in the world. Our users like chargers which are 1) physically accessible (e.g. not locked in a garage) 2) in an open and well–lit area and 3) have food and beverage options nearby (since the average charging session lasts 2 hours). These 3 preferences led us to increase our selectivity with the semi–private chargers we bring on, as well as to build up a product suite to help site managers oversee charging within these more exclusive communities. 
The current players offering Charging–as–a–service are focused on infrastructure management rather than community management. Our community and user management allows for user groups to access different tiers of pricing, charging speeds, and scheduling. Using ampUp, site managers can securely share chargers at underutilized hours to make additional revenue and offset their monthly costs. Being hardware agnostic has been helpful in selling to communities which already have chargers – we help their private infrastructure go public by making their chargers reservable, smarter, and secure. 
How has COVID–19 impacted your business and how you see EV trends in general? 
We're lucky to be funded by 2 motor companies who have EV aspirations and are excited about the software solution we're building. Unfortunately, as people drive fewer miles, the virus will impact their core business and, in turn, their testing of ampUp's software. We're grateful right now to have the funds to put our heads down and work on the product. 
Despite gaining steam the last few years, the EV landscape at large will unfortunately take a hit. 80–90% of new electric vehicle purchases are Teslas – we're still waiting for the Toyota Camry version of the electric vehicle. COVID has naturally paused most new vehicle purchases, and that's on the backbone of there being no good solution for potential buyers who want an affordable EV option that performs like a Tesla. EVs make up 2–3% of current vehicle ownership, and it'll be disheartening to see that slow down. On the other hand, people are recognizing that abandoning gas–powered cars gives us a higher quality life as we witness firsthand cities like LA experiencing the cleanest air in memory. 
Continue reading the full interview and quick dive into the EV charging landscape.
---
In the News 
---
Popup
AirMiners: Just what is an AirMiner you may ask? Join next Wednesday, May 13th as entrepreneurs, engineers, scientists, and designers who are working to extract carbon from the air virtually gather for a carbon negative conference. We'll be there, trying to digitally cop some AirMiner swag. 
Terra.do: We've heard from many of you who are taking your first plunge into all things climate that you wish there was a more structured learning approach. Terra.do has created an online climate school and the first cohort is starting in May. Check out their sample class on energy - it's free! 
Project Drawdown: Tune in on Monday, 5/4 @2pm ET as Crystal Chissell from Project Drawdown discusses how a plant-based diet and other climate solutions can support human rights. 
Watt It Takes: Powerhouse & Greentech Media team up on their monthly podcast series featuring founders and CEOs of climate tech companies. Reserve a spot for their first ever live video recording on May 13th with Gia Schneider, CEO of Natel Energy. Like what you hear? Powerhouse is hiring for a VP of Strategy! 
Climate.stream: Bored at home? Check out this awesome website put together by Climate.careers for even more livestream climate events. 
---
Feel free to send us new ideas, recent fundings, or general curiosities. Have a great week ahead!